Hog Roast Kings Lynn were catering this weekend for a lovely couple Hilary and Paul. The couple were celebrating their 60th birthdays which they shared by coincidence. Every year their 3 children got the rest of the family together for a huge birthday celebration and this year Hog Roast Kings Lynn were asked to prepare the food.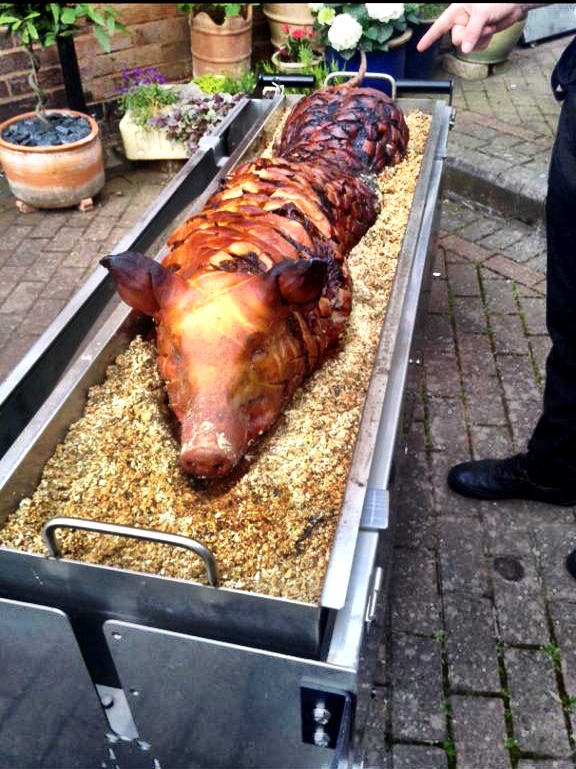 We arrived at the family home at around 12pm in order to get everything set up and cooking away for a 6pm serve time. The house had been decorated already by the kids and there were banners and balloons everywhere and we spied a big birthday cake looming in the corner. In order to keep the party a surprise the eldest, Hank had taken his parents out for a birthday brunch and they were due to do a bit of shopping before coming back just before serve time when all the guests would be here.
As the guests arrived, they were welcomed with the delicious scent of slow roasted pork and a glass of freshly poured champagne, what better way for an evening of partying to begin? We had prepared a fantastic Hog Roast Kings Lynn buffet with all the trimmings including sage and onion stuffing, crunchy crackling and lots of sweet applesauce. As the guests mingled and wished the couple both a happy birthday and shared presents and cards, we began carving up the succulent meat, which was so beautifully tender it struggled to hold its delicate shape through carving. We served up the meat on easy to clean up disposable plates with high quality napkins and provided some delicious freshly baked bread rolls for guests to create scrumptious pork roll sandwiches.
With everyone suitably stuffed it was time to sing 'happy birthday' and for the huge cake to be brought out. Hog Roast Kings Lynn took this time to discretely tidy away, leaving everyone to enjoy the party…