A sunny day with not a cloud in the sky is just what greeted us as we arrived for a hog roast in Long Eaton for a lovely lady called Linda's surprise 50th birthday party. The venue was a lovely country pub surrounded by the great British countryside, the perfect spot for a hog roast! Arranged a couple of months earlier by her husband David, the party was set to welcome guests at 2pm with the birthday lady in question arriving slightly later. This was my first surprise birthday event, and as the party wouldn't properly get going until Linda arrived we decided to postpone our usual canapes that we offer to guests on arrival – giving them time to get into their hiding place whilst we prepared a succulent hog roast Long Eaton outside. Shortly afterwards, the birthday girl arrived and was welcomed with cheers, whistles and some of our most delicious canapes: mini burgers and the birthday girl's favourite – "the most moreish" Peking duck wraps. Just enough to get the guests mouths watering before the main event!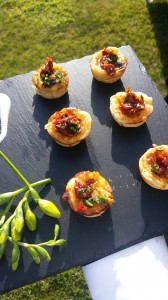 An afternoon of mingling and nibbles thrilled Linda's guests as we got to work preparing the food. The hosts had decided on one of our classic slow roasted hogs, complete with stuffing and a punchy apple sauce, and sirloin of beef with all the trimmings (Well it was a Sunday!). For sides, David had told us that he was struggling to choose and wanted our opinion on which sides were usual crowd-pleasers. After a little discussion, we settled on 3 of our most popular and seasonal salads; tomato & basil, couscous and my personal favourite every time our crispy Thai salad! Finally, our delicious food was served with jacket wedges and some crispy roasted new potatoes generously seasoned in sea salt and rosemary.
Just before service, Linda came over to our gazebo to check out the roasts, mentioning that she had never had a hog roast Long Eaton before and was excited to see 'what all the fuss is about!!'. Well, judging by her coming back for seconds (And dare we say thirds!) I think it's safe to say it was a hit with not only Linda but the rest of her guests who all exclaimed that they were stuffed!