It might be September but we're here to remind you that it's never too early to start planning for Christmas. In fact, those who start planning now are in the best position to enjoy a stress-free and truly magical holiday season. Because, let's face it, while the holidays are undoubtedly a time of joy and celebration, they can also bring their fair share of stress!
The hustle and bustle of shopping for groceries, hours spent cooking for a hungry crowd, and the daunting clean up afterward can leave you with little time to savour the spirit of the season – quality time with family and friends. That's where Hog Roast Headcorn comes to the rescue, offering you a chance to bypass the festive stress and enjoy every moment of the holiday.
Hog Roast Headcorn believes that Christmas is about creating treasured memories and indulging in great food. And with our Full Festive Menu, you can do just that!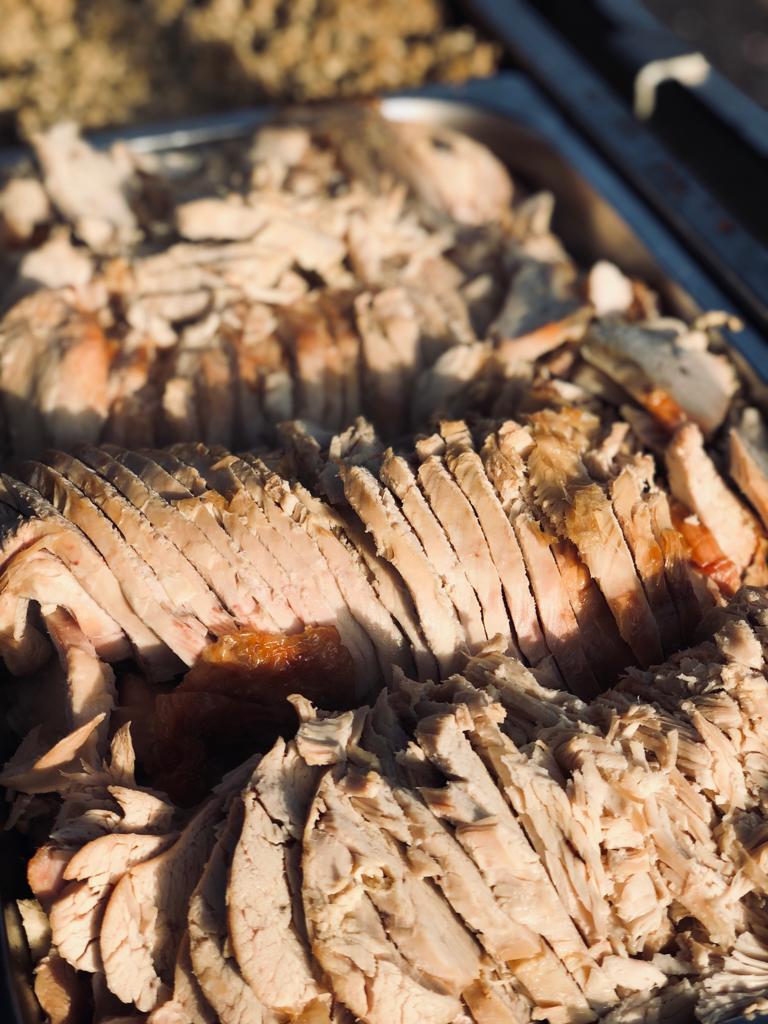 Imagine: a table festooned with delectable dishes like cauliflower cheese, glazed seasonal vegetables, and roasties seasoned with rosemary and garlic. And, of course, no Christmas feast would be complete without everyone's favourite – pigs in blankets! Our menu is designed to bring the flavours of the season to your table, ensuring a memorable dining experience.
For the main course, you have the choice of a traditional free-range turkey paired with fresh cranberry sauce and stuffing. But if you're feeling adventurous this year, why not opt for something different and exciting? Our iconic hog roast platter, complete with sage and onion stuffing, applesauce, and crispy crackling, is sure to be a conversation starter and a crowd-pleaser.
As much as we love meat, we also understand that dietary preferences vary, so Hog Roast Headcorn has thoughtfully included options for vegetarians and vegans. Our meat-free skewers and BBQ pulled jackfruit rolls are delicious alternatives that will satisfy all your guests' cravings.
Since no Christmas meal is ever complete without a sweet ending, Hog Roast Headcorn will treat you to homemade mince pies served with warm brandy cream – the perfect festive dessert! And for a truly heart warming touch, we offer a glass of our mulled wine, with or without alcohol, to cap off your memorable feast.
With Hog Roast Headcorn's Full Festive Menu, you can wave goodbye to the stress of holiday cooking and embrace the joy of Christmas. So, book with us today and make this Christmas truly special.