Lynne recently purchased some Mount Grace Farm Pigs pork for her husband's surprise 50th birthday party and she was very glad she did! She has just sent us a lovely email to let us know how happy she was, not only with the quality of the meat, but also with the quality of the service. We always love hearing from happy customers and after having such a positive experience, Lynne wanted us to share it with everyone!
Lynne had made the classic mistake so many people do when they are planning a party, thinking she had more time than she actually did, she had planned everything down to the smallest detail, but she hadn't sorted out the most important thing-the food!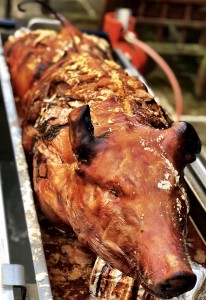 Since her husband has always been such a huge fan of roast pork, she wanted to give him a treat for his 50th birthday by giving him the best quality pork she could find. She had already sorted out hiring a hog roast machine, but since she usually bought her meat from the local supermarket and lived miles away from the nearest farm, she was at a loss as to where to get her pork from for the big day. She put it off and put it off until she realised she was almost out of time! Luckily for Lynne, the internet didn't let her down because she discovered the Mount Grace Farm Pigs website and she knew straight away it was going to save her bacon-no pun intended!
Lynne was delighted with in depth information about the conditions the pigs were reared in and even before she had tasted the pork, she knew it would be top-notch! With little time to spare before the birthday bash, she was also hugely relieved with how quick and easy the online service was. Choose the size you want, choose your delivery options and bingo, the pork was purchased and en route to her house! Having had bad experiences in the past with companies who promise so much on their website but deliver so little in reality, Lynne was thrilled when her precious pork arrived the very next day as promised!
Thanks to Lynne, her husband had the best birthday ever and thanks to Mount Grace Farm Pigs, Lynne will be in her husband's good books for a long time to come!