In the Hog Roast Witchford community Armed Forces Day is a very important part of the community calendar. The team are always delighted to be hired to cater the event, although this years Armed Forces celebration was belated and had a significantly streamlined guest list the team were only too glad to get stuck in. The Hog Roast buffet is always a very popular attraction at the celebration and this year wasn't any different, even though the event did take place slighter later than anticipated.
The organisers of the event were very clear on what they wanted from the Hog Roast Witchford team, they wanted a fun and inclusive menu that would attract all the attendees. As such, the team worked hard to create a menu that would appeal to all.
The menu the team put together had a vegan option of succulently grilled vegetable wraps with a selection of sauces. There were also vegetarian options of vegetable and halloumi skewers that could be enjoyed. However the main attraction at the buffet table was a specially slow roasted pig, that was complete with homemade apple sauce and stuffing and delicious crispy crackling. Also on offer at the food table was the Hog Roast Witchford team favourite: loaded fries.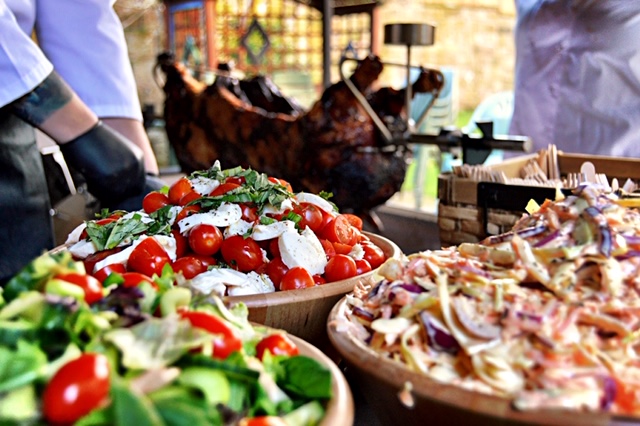 With a serving time of midday the team (Chef and assistant) set up the catering gazebo several hours prior to midday. All the dishes were made fresh on site in those hours leading up to the serving time. The team also set up the buffet table and supplied the disposable crockery, cutlery and napkins.
After the guests had all safely enjoyed the buffet the team worked discretely and quietly to pack away their equipment. As part of the catering package the clients had paid for the Hog Roast Witchford team took away all the rubbish generated from the buffet and would later dispose of it responsibly.
The overall event was a great success, and the clients raised a significant amount for the Armed Forces charities they were supporting. The Hog Roast Witchford team are looking forwards to being able to return and play their part in next years celebration too.