It's happened to us all. We're hosting an event, making sure that everything is running smoothly, that people are having a nice time, that everyone has a drink and that the nachos you made are being eaten. You spend so much time worrying about your party going well that you forget to take time to enjoy it and you ruin it for yourself. Don't you ever just wish that somebody else could take care of all this stuff for you? Well actually, the team at Hog Roast Guildford can. Each of the menus we offer comes complete with an experienced Chef and Catering assistant who will be there on the night of your event to take care of all your catering worries, so you can sit back and relax.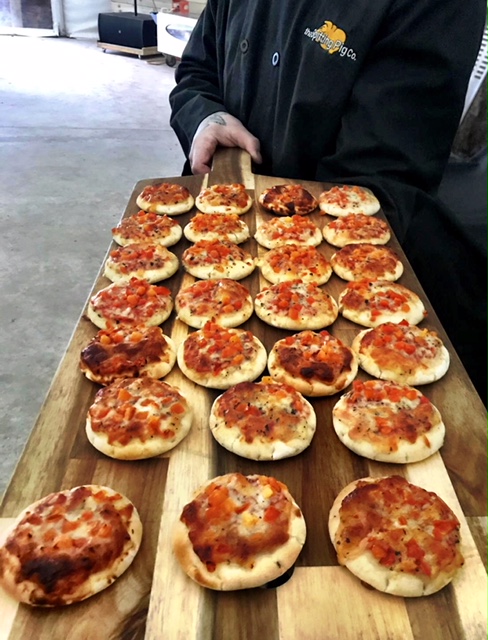 One group of siblings got to realise this for themselves when they hired the team at Hog Roast Guildford to cater for their mother's 70th Birthday Party. Ethel, the birthday girl and mother of eight, is now the head of her family and every year her four sons and four daughters throw her a huge birthday party that the whole family attends. They wanted a Hog Roast buffet complete with a selection of sides, as well as starter dishes and desserts to be available throughout the evening.
The venue was Ethel's home. We arrived early in the afternoon and took advantage of the spacious garden and set up a Gazebo and serving tables outside. The starters were available from the moment guests started to arrive and were kept warm under our fluorescent lights. Among the options were the mini pizzas topped with sliced Greek olives, the mini handmade beef burgers, the chicken satay served with a peanut dip, the lightly grilled fillet of beef encroute, and the whole Tiger prawns. At 9PM the Hog had roasted and was ready for serving. The succulent meat was served with a seasonal vegetable medley and a choice of roasted new potatoes, or spiced Cajun wedges (or both.) Vegetarians had the option of the Whole Roast Salmon, and there was also the slow roasted chicken on the menu for those meat-eaters who didn't like pork.
Chocolate Profiteroles were served for dessert, and the Murphy family enjoyed them and the rest of their evening celebrating their mother's birthday with laughter and smiles. With all the hosting duties taken care of, the team at Hog Roast Guildford tidied away discreetly and left the family to enjoy themselves.