As the country's leading agricultural institution of education, the SRUC (Scotland's Rural College) has dedicated a huge portion of their time towards analysing the impact Brexit will have on Scotland's rural policy, and following the success of their seminar back in May, they invited Hog Roast Forth along to Barr Farm in Sanquhar last month where they had organised a presentation to discuss the future of Scottish agriculture post Brexit. With 50 people – including local farmers – set to attend the midday event, the client had asked that we serve our classic hog roast menu for lunch – which we're proud to say has remained a popular choice among our new and existing clients alike for decades!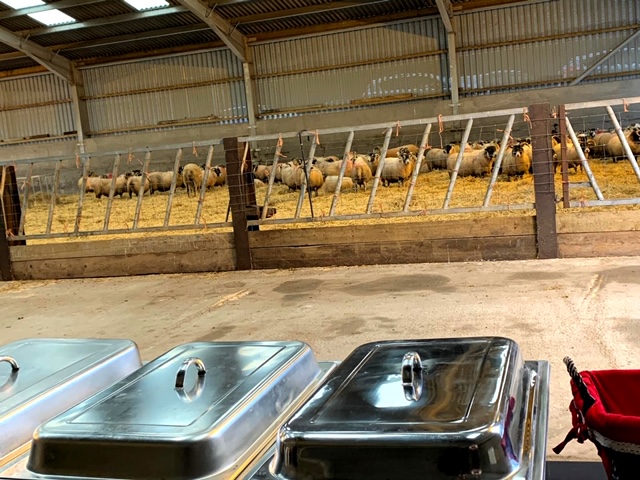 With catering manager John placed in charge of handling the details for the event, the client couldn't have been in better hands and on the day of the presentation Hog Roast Forth made the lengthy journey to the venue where they immediately got started on preparing the feast. Working together, John and Sampathi spent hours lovingly preparing the pig which they had evenly scored and rubbed down with salt to create a layer of crispy crackling that our clients go wild for before then turning their attention to the savoury stuffing, homemade applesauce and of course: the meat-free alternative of grilled vegetable skewers with optional haloumi.
During the eye-opening seminar, the guests had built up a voracious appetite and upon entering the barn where Hog Roast Forth had been cooking all morning, they were pleased to discover that the meal was ready to be served. Using the gluten-free rolls and wraps which they packed full with juicy carvings of meat, succulent pulled pork and savoury stuffing the attendees excitedly experimented with various flavour combinations which had them completely hooked and with more than enough food to go around, everyone was welcome to return for second (and even third!) helpings.
The event was a huge success and the SRUC have since been in touch to thank John and Sampathi once again for serving a high-quality meal and most importantly: ensuring that no one was left hungry!