The home county of Kent a historic and beautiful county located in the south east of England that is home to the magnificent white cliffs of Dover, the exciting city of Canterbury and of course acts as a gateway to France and the rest of Europe via the channel tunnel. Kent also plays host to Spitting Pig and hog roast Ashford the counties number 1 hog roast caterer. Based in our home county of Kent all our lives Spitting Pig and hog roast Canterbury began life as a small and humble catering company. We stuck to a core set of believes, determined to give every customer, exceptional service, unrivalled food cooked from fresh local ingredients and to instil an sense of fun into event.
Hog Roast Catering – Market Leaders
Over the last 20 years Spitting Pig and hog roast Kent has grown and we now operate county wide and consider ourselves industry experts and the market leaders in our area. Every Spitting Pig and hog roast Kent event is special to us and we treat each event individually, we like to give you full control over the day, after all it's your event. We like to think we give a personal touch to each event and because we are a local caterer we can often come down and take a look at the site of the event and get a feel for how things are going to work on the day. Here a Spitting Pig and hog roast Folkestone we are completely flexible and therefore we can let you personalise any of our menu options. That way we can be certain that your event catering is unique to you. We really can work wonder with food and you'll be amazed at what we can produce.
Hog Roast – Catering For Any Event
Here at Spitting Pig and hog roast Kent we cater for a wide range of events from private parties, corporate events and even Wedding and that's why we have created a number of different menus based around these categories to give you some idea and spark your imagination. Why not take a look through our different menu options and see if there is something that catches your eye. We have the very simple but wholesome menu 1 option which includes a fresh spit roasted pig with homemade apple sauce and stuffing served in a freshly baked bread roll. It's the ultimate hog roast classic and its guaranteed to leave your guests filled and thrilled. Spitting Pig and hog roast Gravesend also understand that sometime our customer want something different than pork, that where our menu 2 option comes into play. Here this offers you a choice of meat all freshly spit roasted on our custom built hog roast machines. Choose from spit roast beef, chicken, turkey or lamb all accompanied with their traditional sauces and condiments. We also offer BBQ options with each one of our menus so you can really give your guests some variety. One of our most popular menus here at Spitting Pig and hog roast Maidstone is our exciting menu 3 option. Here the spit roasted pig is still served with apple sauce, stuffing and bread rolls as in menu one, but we also include three freshly prepared salads and warm new potatoes served in a garlic and herb butter. These over the years has proven to be a real winner from hog roasts in Margate, to across the county and hog roasts in Tonbridge.
Hire Packages…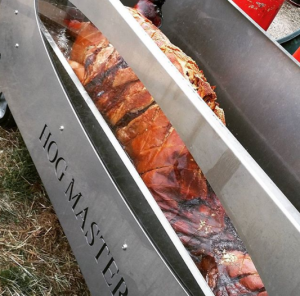 One of our other options available from Spitting Pig and hog roast Canterbury is our hog roast hire packages. Here we are offering you the chance to become your very own Spitting Pig chef for the day. We have a number of different packages that all included free delivery, collection and a bottle of gas. Every hire is delivery by one of our hog roast experts and they will be more than happy to show you how the machine works and even give you a few hints and tips to get the most out of your cooking experience. We also supply a full instructional manual should you forget anything and we provide full contact details should you need to get in touch even out of hours. We both delivery and collect the machine at a time to suit you so the whole experience is completely hassle free. We can even supply the meat for you.
So for a hire or catering quote then get in touch today our sales assistants are just waiting to take your call and because we price for each event individually you can be certain that you are not only getting the best possible price but are also getting that personal service that we have become so famous for.
Versatile Hog Roast Service
We are situated in a picture post card environment, beautiful countryside and beautiful buildings; Hog Roast Kent supply hog roast catering to all in Kent and way beyond! Whether it be a small even or a large corporate event we are here to help designing your tailor made menu to suit your budget and offering you the finest quality food, with so much selection you will be sure to find a perfect menu t please all your guests even the fussiest of eaters will not be able to resist the succulent meats that we can offer. There is always an occasion to be celebrated and to be honest who needs an excuse to enjoy fine delicious food! What ever your pallet we can design a menu that is just right for you offering you a three-course meal or a finger buffet and we travel anywhere be in on a deserted beach to an open field we can cater anywhere as our machines are versatile and they run on gas.
Our Oustanding Hog Roast Repuation…
Hog roast in Kent have a great name among locals and have gained a good reputation and have received fantastic feed back from customers who have went on to recommend us to others the majority of our work these days comes from recommendation when we are out and about catering we are often asked by guests at the parties we host about future work and we always tend to carry leaflets about with us now just in case! We enjoy catering and find it such a fulfilling job meeting lots of interesting people and making people happy is what we do best our staff are friendly and courteous and go well out of there way to enable that each guest is happy and we make everyone feel special at an event, a lot of our customers are now considered as friends as they come back to us time and time again there is no greater compliment than having customers return – it always gives us the utmost satisfaction that we are doing a great job. Contact us now for more info.