As voted by you West Kirby is one of the best and nicest places to live in Merseyside. Its community is increasingly delightful and boasts a pleasant state of living. Why is that the case? Well amongst its beautiful seaside views and pleasant trails the community of West Kirby also knows just how to enjoy themselves right, and that is with the fine event catering services of Hog Roast West Kirby – the best, most innovative and unique dining service dedicated to making all your most special occasions a truly unforgettable time. Whatever your needs, when it comes to food you simply must have Hog Roast West Kirby. We work to you – by catering to any variable style or size of event Hog Roast West Kirby ensures that it remains as the number one caterer in the country. Whether it's a wedding reception, corporate function, birthday, festival, or more, our guests always leave with a satisfied stomach and a happy smile.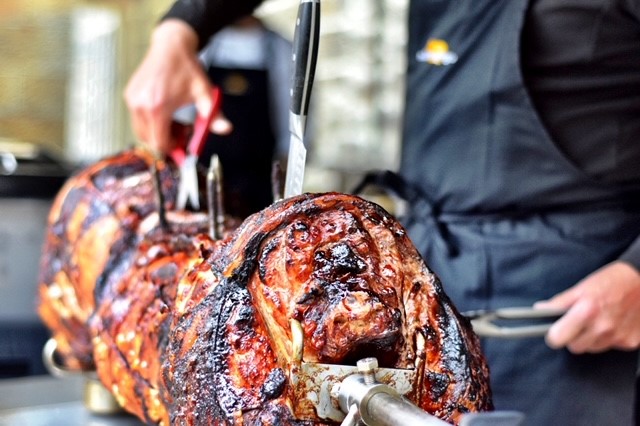 What sets us apart from other caterers is our unique speciality in meat grilling and hog roasting – a traditional cooking style that is as brilliant in tastes as it is in spectacle. Our meat is prepared fresh and is carefully tended to for hours, slowly roasting on our magnificent mobile hog roast until its flavour and texture is exactly perfect for serving to your event. Our elite team of top chefs ensure the quality of every one of our roasts by bringing their years of experience and skill to the table. With their expertise our hog roasts are a true achievement in taste and texture, ensuring that your dinner time is one of unbeatable delights.
Wondrous Works in the West
With all manner of meats, salads, canapés, vegan, vegetarian, and gluten-free choices available we're confident you'll find the right flavour combination to suit your event. Our hog roast is the star of the show always, but no plate would be complete without all the extra trimmings! Our friendly staff are more than capable of offering their expert recommendations to help you build up a feast suited to you and your guests. What's more, our services won't break the bank as we work flexibly to your budget.
So get calling Hog Roast West Kirby today and let's make a dining experience to love!