When it comes to event dining you want the best, and for Northern Ireland and Strabane the best, quite simply, is Hog Roast Strabane. At Hog Roast Strabane we take pride in our ability to produce stylish events complete with a unique dining experience of the best hog roast around. For every event we attend we are always delighted to be met with a wonderful response from our guests, who often wax lyrical about our roasts and the care of our service. This is event dining as you have never enjoyed it before. Your event will have the pleasure of enjoying a full spread of fresh foods cooked in style and presented in a fashion befitting the heights of your event. After all, it isn't proper event dining without a little flair and show to it!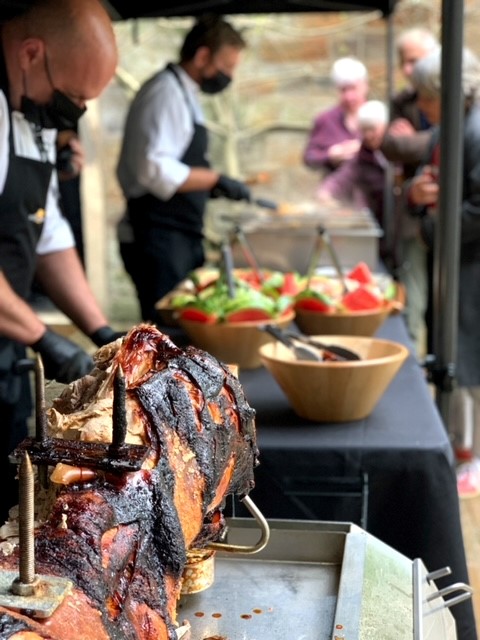 Hog Roast Strabane is available with many menu options to cater for any size of party – weddings, corporate parties, birthdays, dinner parties; you name it and we'll be there with our high-quality meats that will have everyone salivating at the mouth-wateringly delicious taste. Our cooking is an event in itself with the spectacle of our mobile hog roast adding one exciting display to the day, which the resulting taste then also more than matches! We cook from only the best locally sourced meats and foods too so that you know that work is going back into Northern Ireland's local industry as well!
Salty Goodness for Strabane
Our staff are an extremely friendly and fun bunch that are devoted to bringing you whatever you need for your day. Our hog roast is a fan favourite, but we also offer many other options including vegan, vegetarian, and gluten-free options to meet any guest requirements. With Hog Roast Strabane you'll get premium buffets or set menus without the added premium cost. Our event specific packages allow us to tailor our services to the demands of every occasion, and when working with us we will always present you with a number of options we believe to be fitting to your chosen style. From there it is just a matter of tinkering until you have the exact event you are after!
So, call Hog Roast Strabane today for your event catering and be whisked away to a whole new world of flavour and service!