When it comes to good eating there is only one place to come, Hog Roast North Hykeham. We know how best to curate a fine dining menu for your most special occasions as we deliver unique, stylish event catering throughout town. The Hog Roast North Hykeham speciality hog roast is a traditional dish perfect for the grandiosity of event dining, as its terrific slow cook makes for quite the show before you even get your hands on its juicy, perfect roast results. It is an utterly unique food experience not offered anywhere else in catering – and certainly not at such low and affordable prices as this! So whether you're hosting a wedding, corporate affair, anniversary, birthday, small dinner party, festival or otherwise, then Hog Roast North Hykeham are the only caterer you should be looking to this year.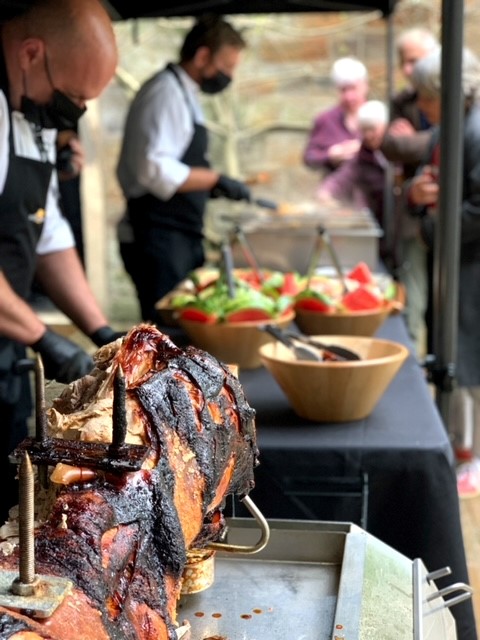 With our very own mobile hog roaster we have married traditionality with modern magnificence as our elite chefs finely spice and flavour your freshly prepared hog roast. Our methods are genuine, meaning that though they make take just that bit longer, their tastes are all the better for it. This is roast dining as it is supposed to be enjoyed. Forget your oven cooks this year and opt for the stylish, brilliant new way to dine with hog roasting. We guarantee your event will be even more spectacular with this beauty in attendance.
No Hiking Prices in Hykeham
At Hog Roast North Hykeham we have all you need to turn an event into a special occasion. Accompanying the speciality hog roast you'll find many other meat dishes as well as vegan, vegetarian, and gluten-free mains, sides, salads, canapés and more! With buffet and set menu dining available you truly are spoiled for choice at Hog Roast North Hykeham, but fortunately we've made life easier with our team's expert recommendations designed to give you a perfectly refined taste experience fitting to your needs and budget. We'll never cap you on quality even at lower budgets as we ensure our services work flexibly for all our customers.
So, remember – for the finest food catering and service in Lincolnshire give Hog Roast North Hykeham a call today!