If you've been on the lookout for an expert catering service in Musselburgh, you've come to the right place. The Hog Roast Musselburgh team are ready and waiting to give your guests a meal they'll never forget with our delightful melt-in-the-mouth roasted pig. In fact, we are considered one of the highest quality catering services in the area and it is a reputation that is well deserved. Our expert team are dedicated to giving you the very best experience possible when it comes to mobile catering, so you can book us with complete confidence.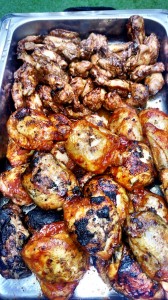 We understand that while our mobile hog roast service cannot be recommended enough, it won't be to everyone's taste (and we won't be offended!) This is why we offer our customers a large selection of meats from beef to chicken, lamb, fish and any other that you suggest. We're happy to go along with your own suggestions so that you're satisfied with the service you receive from us. Don't quite see something that tickles your fancy? Let us know! We'll work with you to create a customised menu that is exactly to your requirements.
What's more, we never overlook the fact that some of your guests may be sticking to diets and would prefer a dish that is a little lighter; while some may have dietary requirements for health and ethical reasons. That's no problem for us – we serve vegan, vegetarian and gluten-free dishes which are available upon request. Simply let us know at the time of booking and we'll ensure those with special diets are given a meal they're satisfied with.
Want to know more about what we offer? Get in touch today!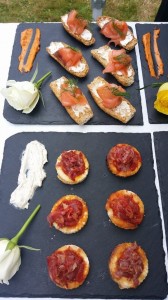 If your event in Musselburgh requires a more varied spread or a refined meal, the Hog Roast Musselburgh team are just as qualified to undertake this type of catering. All of our food is freshly made and beautifully presented regardless of how many diners we are catering for or how many different dishes you have requested. Get in touch with us today and we'll be happy to chat through the options with you.