Have you been on the lookout for an expert caterer in the Marple region? Well, you've come to the right place because Hog Roast Marple is ready and waiting to give your guests a catering experience they'll never forget with our delicious freshly-cooked cuisine. We have been in the industry for over 20 years and know exactly what it takes to impress even the fussiest of eaters. That's why we have become of the leading events caterers in the whole of the UK – so what are you waiting for? The Hog Roast Marple team are waiting to hear from you.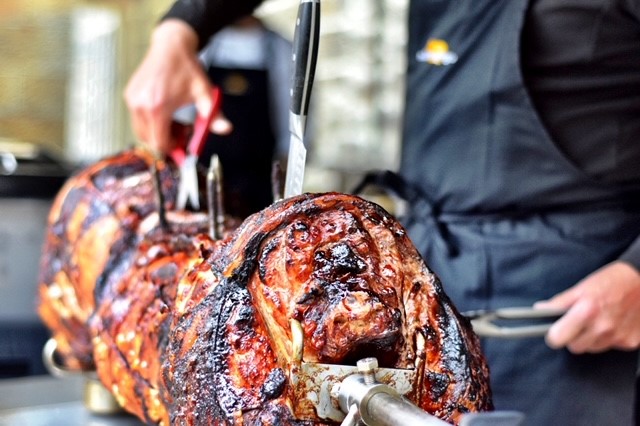 Spit roasting is one of the most universal methods of food preparation, therefore, individuals all around the world are a fan of the juicy interior and crispy exterior of hog meat which achieves a delicious taste and texture that you simply won't experience elsewhere. Everyone likes to see their guests enjoying themselves and rest assured, good food at your big event is certainly an excellent starting point.
So, what can you expect from the Hog Roast Marple team?
One of our greatest benefits is that we're completely flexible, so all of our menus can be customised and adjusted by you – which puts you entirely in charge. If any ingredients aren't suitable or you'd prefer to put your own spin on our dishes, you have the freedom to do so! You'll be assigned your very own chef who will be on hand through the entire process to guide you with what works when it comes to flavourings.
We do appreciate that vegan and vegetarian guests are likely to be in attendance at your event, therefore we offer special dishes for those with dietary needs. Simple let us know in advance and we will ensure that we are well stocked with ingredients to create our famous first-class meals.
All that's left to say is please get in touch with us now! We cannot wait to hear from you and plan a Hog Roast Marple event for your special occasion.