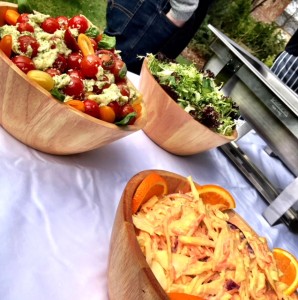 Hog Roast Chester are delighted to announce our hog-roast and fine meat catering services are now available to all events in Chester and throughout Cheshire. As purveyors of top-quality food, dining, and service, Hog Roast Chester are the only place to call for all events – whether you need us for a wedding, corporate affair, party, or dinner party, Hog Roast Chester are assured to provide a unique dining experience like no other.
We specialise in slow-roasted pork offerings and as such we put an onus on sourcing the highest quality meats so that every dish is the best it can be. Additionally, we believe in local industry which is why we also source our products locally as well so that you can always be assured that your food has come from good local British stock.
What makes us different then? Well for one we turn back the clock a little to recreate the feastful spit roasts of yore, though with an added modern twist and flair as our very own mobile spit roaster brings perfect roasting and taste to your event. We prepare your hog roast fresh and cook throughout the day of your event – it can take hours! But, fortunately, the result is an achievement of brilliantly charred outer skin covering over the delicate and juicy meat inside. Be amazed as your pork roast just pulls effortlessly off the bone to then be used in a number of brilliant dishes served up by our chefs. With freshly made pulled pork rolls and full roasts on offer you can't go wrong with Hog Roast Chester.
Uniquely Made Roasts in Chester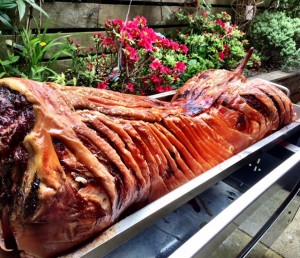 The team here at Hog Roast Chester are devoted to making every one of our events a truly unique and special experience. When booking, be sure to ask the team about our huge array of food options. They'll come quick with a personalised food combination right for you. We have both buffet and set-menu options, and each come with alternative meat choices, as well as vegan, vegetarian, and gluten-free options to ensure that we can meet any guest requirements. The best part? All our services are brought at a flexible and low cost so that you don't have to scrimp in quality!
Sound great? Then call Hog Roast Chester today and bring a unique taste and look to your next event.