Whether you prefer Birstall's modern and urban area or the town's more historical elements, when it comes to hosting an event in Birstall, you need to make sure the venue suits the style of your event and the tastes of your guests. Another major part of getting the tone and ambience right for your event is the type of food you choose to serve. The catering is such a big part of any event, and it is not something that should be taken lightly. If you need professional help when it comes to the food for your event, we're sure that you will be more than satisfied with the catering packages available here at Hog Roast Birstall.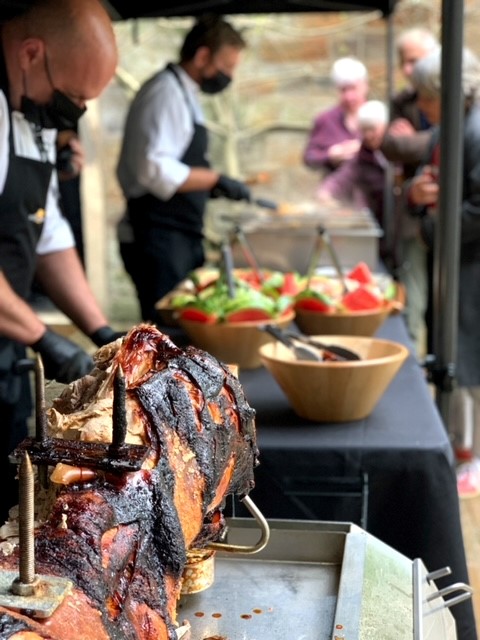 As the leading suppliers of hog roasts in Birstall, our style of catering is ideal for any type of outdoor entertaining, and we are able to adapt the type of menus and the type of service we offer to suit the individual needs of our clients. Hog Roast Birstall offer competitively priced and extremely high-quality catering packages for weddings, private parties, corporate dining and public events. We are able to offer bespoke dining solutions for any occasion and we will make sure your menu reflects your event, suits your budget and incorporates the needs of your guests
The ideal hog roast catering menu for any event
In addition to our premium hog roasts, we can offer you a range of other meats if required, as well as vegetarian dishes, options that are dairy or gluten-free, and a vibrant and varied selection of sides, salads and sauces. All of your food with be made at your venue before your event and will be served promptly at the specified time. We also provide fine dining menus for elegant special occasions, with the option of a canapé welcome reception and table service supplied by our highly trained events team.
Organising the catering for your event won't be a hassle if you enlist the services of the Hog Roast Birstall team. We have the event catering knowledge and experience to handle everything for you and we will make sure every detail is just how you want it for your big day.