Suffolk is a wonderful place to visit or live. Found on the east coast of England, the many people who live in Suffolk are not just able to enjoy this picturesque location but they can also benefit from having a particularly excellent type of catering for any social function which they are responsible for hosting. As there is a wide variety of social occasions which can benefit from having this exquisite catering, I am able to offer my services for any crowd size. Whether it's a handful of people or even a few hundred, the catering which I can provide is simply marvelous. But what can I actually give to you?
We service the following areas of Suffolk – Ipswich, Bury St Edmunds, Felixstowe, Newmarket
Personalised Hog Roast Catering
Known as hog roast catering, I have provided my services all across Suffolk especially hog roast in Ipswich. I know how important it is for my hog roast catering to be as much of a success as possible. This is why I work closely with you. By contacting me in advance, I am able to work alongside you so that whatever you require I will try my utmost so that what I provide for you will make you and your guests very happy. But what can I actually supply to you in regards to my hog roast catering?
This all depends on what you actually require; however whether it's a hog roast in Bury St Edmunds or a hog roast in Felixstowe we have got you covered. Whether you want just the hog roast provided and nothing else, this is no problem. Or, if you prefer to have other condiments supplied for your social function this can be given as well especially for hog roast in Newmarket. Whether this is a potato salad or even other types of salads the food which I am able to provide has been known to taste absolutely superb.
Throughout my career, I have worked in a variety of catering environments all across the country. This has ranged from an Italian restaurant to even the opening of an airport terminal. It is thanks to this experience that any item which is not on my menu which you prefer to have will be able to be cooked by me. Whether it's a particular item which is eaten every day or even a dish which is not known by the general public I am more than able to use my catering experience to your advantage so that your own social function is as enjoyable as possible. I am able to use this experience to my advantage especially as I now run a café in the town of hog roast Ipswich. As I cook a wide variety of items on a daily basis, this enables me to broaden my culinary horizons especially as I run this café with my beloved wife.
Hog Roast Machines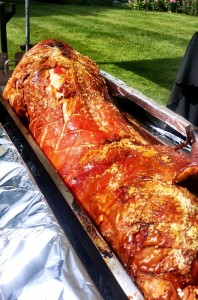 My hog roast Bury St Edmunds is cooked to perfection using superb hog machines. I decided to invest in purchasing the best possible machine which continues to provide exquisite hog roast time after time. The machines which I have invested in are transported to your own social occasion thanks to my catering van. Kept spotlessly clean, this has impressed many of my customers. By seeing me arrive in this catering van has impressed many as they know that the person who they have hired is able to provide a great tasting meat which will be remembered for a very long time. As it takes up to six hours for the hog roast meat to be properly cooked, I know how important it is for the meat to be cooked perfectly. As many of my customers have found out for themselves, even if they previously thought that this was too long to cook the hog roast meat when they sample what I have cooked for them these thoughts quickly disappear. The hog roast meat which I am proud to provide has been known to fall apart in my customers mouths. And, the meat which I can carve for you will taste even better if it is accompanied by pickle.
Locally Sourced Ingredients…
Best of all, when a customer asks me about the source of my food I am able to vouch for this exactly. All of my food is from local sources to my home village of hog roast Felixstowe. This allows for my Carbon Footprint to be kept to a minimum. I know the importance of this for several customers and I have been questioned by numerous people in the past. I never object in answering any queries regarding this because I am proud of where I actually source my food from.
Refreshing Upfront Hog Roast Service
But, how much do I charge for providing your social function with hog roast catering? The answer to that is surprisingly little. I completely understand that times are tough and the amount of money which people have for entertaining might not be as substantial as they would like. Therefore, I work closely with my customers so that the budget which I am given is strictly kept to. For example, if you only require the hog roast meat then this can be provided at a lower price than if other condiments are chosen as well. No matter what your budget is, the price which I charge is stated upfront and there are no hidden charges.
So, if you are interested about hiring me as a hog roast Newmarket provider for your social function which is happening anywhere around Suffolk why not contact me? I can be reached by email and telephone. Although you'll be able to speak to me almost instantaneously via the telephone, any email enquiry which you send will be replied to as soon as possible. After all, your social function might only be a few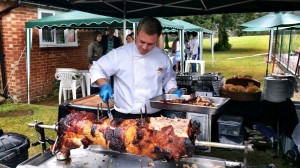 weeks away and you want to organise catering as soon as possible. Or, if you want to talk to me in person I am always happy to do this as well. The proof is in the pudding after all and you can taste for yourself the many items which I cook for a countless number of customers in my café on a daily basis.
Highest Standards Of Customer Service
As mentioned previously, there are many reasons why the catering which we can offer in Suffolk is simply beyond the capacity of others. Although seemingly arrogant, the fact that we never flinch from providing the very highest standards of quality ensure that we have a huge amount of repeat customers, from Hog Roast Ipswich through to the leafy boroughs and suburbs. By concentrating on providing our clientele with an exquisite standard of service, we ensure that a Hog Roast in Bury St Edmunds with us is something that will never be forgotten for all of the right reasons – every time!
In today's economic climate, everybody is feeling the pinch. In terms of leisure time, people are looking at other ways of making their money go further and last longer. Although many people see Suffolk as an area of relative wealth, the collective reduction in spending happens everywhere. In terms of catering, this means that the market place becomes much more competitive for those who provide the catering – which is great as those who are not up to the necessary standard quickly become irrelevant. For us, this is a great thing, as our services have increased in demand, as we take up the slack of those who pay less than restaurant prices but gain food which is far superior. Through this, we have been able to spread our hog roasting joy with more alacrity than ever – which not only gives the folk of Hog Roast Felixstowe and other places in Suffolk more great food, but also gives the great spit roasting method more publicity. For those who wish to have a Hog Roast in Newmarket or anywhere in Suffolk, our prices are very low and our food is simply gorgeous – just ask some of our past clients.
Tantalising Appeal…
One of the great things about how we operate is that we use whole carcasses. Of course, it simply wouldn't be a hog roast event if the meat wasn't roasted whole by our fantastic chefs. By utilising whole meats, our clients gain many advantages at their event in Hog Roast Ipswich. First and foremost on the list of advantages and gains associated with the express use of whole meats, is the taste. By utilising a whole carcass, the whole flavour is totally different from the use of fillets – plus, it would be the same if you had a Hog Roast in Bury St Edmunds and it was fillets and cuts used instead of the whole carcass. By slow roasting the meats over real flames, the carcass is gently heated, allowing the meat to naturally baste. The bones give real depth of flavour and the basting fluids ensure that the meat stays thoroughly moist at your event in Hog Roast Felixstowe. On top of this, the spit roasting process involves the rotation of the whole meat. Not only is this a marvellous sight for the spectators, but it also spreads and distributes the basting fluids as they coat the meat – further accentuating and underlining the very nature of having the very moistest of meats. So if this sounds appealing, why not have us sort out the catering for your next Hog Roast in Newmarket?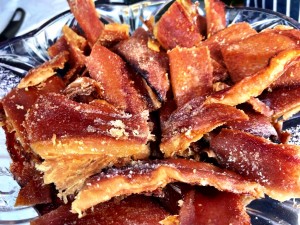 Apart form the flavour of the glorious meats as they are roasted whole, comes the visual aspects. Having a turning hog simply looks stunning at the premises of your event or function. Instead of food just appearing on plates, the hog roast is a true event in itself – one that interests and intrigues people, giving them a sense of anticipation and participation. Lastly but by certainly no means lastly is the fact that our meats offer the very best in terms of pricing for our clients. By utilising whole meats we make huge savings when it comes to purchasing. Instead of buying fillets, we purchase our meats whole – and these savings are passed on to our clients. Added to this, we have great working relationships with our suppliers, ensuring that the produce at events in Hog Roast Ipswich for example, are not only great in quality, but are also brilliant value for money.
Here To Help – Contact Us Today
When it comes to booking in your next Hog Roast in Newmarket, you really need look nowhere else. With a flourishing trade and a staunch commitment to quality, our events go from strength to strength. Able to cater for any number of people in any location, we offer sumptuous food, low prices and service with an impeccable smile – every time and all the time, without fail.