We're a popular provider of hog roast catering in Staffordshire and we're here to make hog roasting a reality for your big day. Wedding catering is something we're well known for in Staffordshire, we've got hundreds of weddings under our belt and every one of them has been different in their own way, from menus to venues, guest lists to religions. Something they all had in common is that they were great days, with great food and a great response from customers and attendees to our hog roast Cannock. Everyone loves our hog roast in Cannock, and it's hard not to with so many tasty spit roasted dishes to be eaten. We excel with our hog roast Cheadle wedding catering because we're always focusing on the individual needs of each customer, and with weddings it's not different – There are untold wedding options to choose from for your hog roast in Cheadle.
The areas of Staffordshire that we service include – Cannock, Cheadle, Lichfield, Stafford, Stoke on Trent, Tamworth, Walsall, Burton upon Trent
Hog Roast – A Culinary Discovery
Hog roast catering will be the greatest discovery you'll make in Staffordshire since the Staffordshire Hoard! When you taste our hog roast Lichfield you'll be a fan for life, there's only one thing in this world that's better than a hog roast and that's a hog roast with a beer in hand! If you're looking for a reason to have a hog roast in Lichfield then a summer barbecue goes together with a spit roast like salt and vinegar. You can't beat having a hot pig roast roll in one hand and a cold beer in the other on a sunny English day.
We can't give away too many secrets but one of the driving forces behind our continued success in Staffordshire has been the many great staff members who work tirelessly to take hog roast in Stafford forward. Unlike many other catering companies we've built for ourselves a great infrastructure that helps us give the best services to customers every day. There are a number of exceptionally talented waiters, chefs and office workers at our company who can make the party you've been dreaming about a reality. Hog roast Stafford has some of the finest hog roast experts in all the land and they'll take your hand and assist you with your dream event. We can give you extra help if you're struggling to organise your event and best of all is that you'll be assigned your very own chef who'll be hog roasting for you, the chef will help you to pick out the ideal menu for your occasion and your budget. Your hog roast in Stoke on Trent doesn't need to be typical or ordinary though, it's entirely up to you which menu selections you would like and we can accommodate any changes or customisations that you make to a menu. Hog roast Stoke on Trent is elite in every sense of the word and we time your event to perfection, we're never late serving food, never late arriving. Because we've so much experience cooking animals of all sizes we know how long a 60kg pig will take to cook, we know how long a 3kg chicken takes – we make the necessary adjustments needed and will be at your event venue seven hours before hand to prep your chosen menu.
Corporate Events And More
Hog roast Tamworth knows about business and corporate catering is second nature to us, that's why for your hog roast in Tamworth we have more than a 1 size fits all menu approach to corporate catering. With our corporate catering there are many different menus to choose from, suitable for your different corporate needs. We have hog roasts for a business breakfast, hog roast for corporate parties, hog roasts for corporate functions and a lot more. That's why so many in the corporate world are turning to us for their hog roast Walsall. We're the only caterers that have endless possibilities for your corporate hog roast in Walsall.
We cater for all number of people from small, family events to thousand strong occasions. One thing that's true no matter the details of the event or the choice of menu is the unreal quality of the food we cook for a hog roast in Burton upon Trent – Much of that fact is owed to the county of Staffordshire and the enormous wealth of resources that we're privy to. All the hogs, chickens, beef, lamb and turkey that we cook, and much of the vegetables and potatoes that we use, they're all bought from regional farms for your perfect hog roast Burton upon Trent.
Outstanding Customer Service…
As you have read previously, our infrastructure and our ability to provide a standard of service un-matchable by any other hog and spit roast service provider aren't the only reasons why we have become one of the most popular catering solutions in the whole of the Staffordshire area. From Hog Roast Cannock through to Hog Roast Cheadle, people are realising that instead of going to restaurants en masse and spending huge amounts of money, they can arrange for a Hog Roast in Town Lichfield for much less in terms of cost and so much more in terms of quality. Through our consistent levels of care, we ensure that our clients not only have the best support in terms of planning and arranging their events – like a Hog Roast in Stafford, but that they also receive the very best when it comes to flexibility within their events.
We have lived in Staffordshire all of our lives, and we believe that the county has to be enjoyed, as it contains so much of what we and many others deem to be beautiful. When people normally have catered events, they are limited – effectively shackled – to locations which have all the amenities needed for a normal kitchen to operate and run. As far as we are concerned, this overly limits the client as there is not nearly enough emphasis on the notion of choice. Sure, its great to stick to places such as Hog Roast Stoke on Trent – however there is so much more when it comes to event locations. For many, the prospect of a Hog Roast in Tamworth is more than enough, yet for some the need to go anywhere they wish for their event is important. Therefore it is important to us too. One of the great joys of the hog roast event is enjoying the outdoors. Indeed, Hawaiians adore having a hog roast out on the beach – affectionately known as a Luau. Thus, we can offer our clients the opportunity to have their event absolutely anywhere they wish. Yes, that right – anywhere!
Our Hog Roast Machines
When we started hog and spit roasting so many years ago, we had to effectively engineer our own spit roasting machines. This was due to the quality of the machines at the time being so emphatically poor. Today, we have carried this on resulting in a range of spit roasting machines which require no power whatsoever on behalf of our clients. Along with this, our vehicles contain all we need in terms of preparatory items, thus rendering the need for a kitchen none existent. By offering this, we open up the whole of the county to the client – allowing them to have stunning food, roasted to perfection at any location of their choice. For us it just part of the service – and it is just one of the reasons why we are the market leaders in our field. So for a roast in the countryside or in Hog Roast Walsall, the choice is totally up to you!
Utilising and using the very best in terms of hog and spit roast machinery is just one of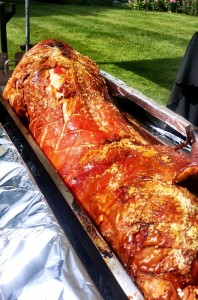 the things which stands us apart from the rest. When it comes to the food we offer – it is once again an element which separates us from our competitors. Many in this trade unfortunately aim to make savings in any area, including that of sourcing meats poorly. For us this is not an option, as we love what we do far too much. Along with this, it wouldn't be right for us to hope for repeat custom from someone who's had a Hog Roast in Burton upon Trent and been given low quality meat. By always sourcing well, our food continues to gain popularity all over the region – allowing us to expand and offer more and more services to our clients and customers.
Your Hog Roast Booking – Get In Touch
Our menus on our website are easy to view for our client's convenience. Arranged in a manner which makes finding the right one a doddle, it is easy to pick a menu which one finds appealing. From there, by sending us a simple email via the web form, you are put straight in touch with our events organisational team. This dynamic group of people, from places such as Hog Roast Stafford, have a love for all things to do with the hog roast and will advise you well. The menus can be customised to your heart's content – so it's easy to get the perfect menu for your next Hog Roast in Stoke on Trent. Contact us today.