Hello and welcome to Spitting Pig Norfolk the most experienced and professional hog roast caterer in the county. We work right across Norfolk for example hog roast in Norwich are a weekly occurrence and we regularly hog roast in Alysham and other surrounding towns. For most of our customers a hog roast signifies a very special occasion and therefore in order for the event to meet your expectations you need a caterer than can produce the menu of your dreams. We here at Spitting Pig have been recognised within the industry year upon year from hog roast in Diss to large beautiful wedding hog roast in Fakenham, our reputation has grown year on year and it glad to hear such lovely things about us in the local press. So whether you're having a hog roast in Great Yarmouth or maybe even a hog roast in King Lynn then make sure you give hog roast Norfolk a call.
The possibilities are endless with us as the premier hog roast caterer there is so much we can do and you can really personalise the service you receive from us. So for example at a recent hog roast in Lowestoft the customer wanted a personalised menu for a private party he was hosting. This was of course absolutely no problem. We hog roasted a special bread of organic pig that had been marinaded in a special collection of herb. We served this with freshly roasted vegetable, and freshly prepared salads accompanied with all the usual condiments. Also in addition to this we did a full barbeque including pepper steaks, fish and homemade burgers. Everyone was delighted at the food and amazed that we actually cook all our food on site right in front of your eye so you know it completely fresh.
We cover the following areas in Norfolk – Norwich, Alysham, Diss, Fakenham, Great Yarmouth, Kings Lynn, Lowestoft
Excellent Hog Roasts
Hog roast Norwich is known through the county for providing excellent hog roasts and one of our most important aspects of our business is our wedding catering. Here at hog roast Alysham we know that you're wedding day is going to be a day that you'll remember for the rest of your lives and therefore you want a caterer that makes that special day come to life. Hog roast Diss understands that and that's why we provide a special service for wedding catering. We make sure that you can fully customise your menu and that the whole catering service works around you. From the moment you start with your enquiry everything is taken care of we send out a personalised quote the very same day. From there on we are just on the end of the phone is you need to make any changes or have any questions for us. When you come to book we are more than happy to make site visits and do tasting sessions with you so that you can be certain that the catering option you have chosen is right for you. All this pre-planning means that on the day we will arrive early and will have taken care of any eventuality. Wedding are one of our favourite events to work on because you feel like you arnt not only contribute to the success of the event but you can also giving people a special memory that will stay with them forever. So if you're having a wedding then why not give us a call from hog roast Fakenham to hog roast in Great Yarmouth we will make your day extra special.
Here at hog roast Kings Lynn we are committed to delivering you the best catering experience possible and part of this success is based upon the local produce we use to create the menus. We have a strict policy on giving back to the county that has given us so much and that why all our food where possible comes from local businesses. For example for a hog roast Lowestoft we source the pigs from just down the road from a local farm we have great relationship with. All of our vegetables and salads are bought from local markets and business and therefore we can be certain that we have the freshest and tastiest ingredients available.
Private Party Menus
With regards to our private party menus the most popular menus from Spitting Pig and hog roast Norwich in the county are our menu 1 and menu 3 options. These are tried and tested favourites that are sure to be a winner at your next event. The menu one option is perfect for any type of private party from back garden hog roast in Alysham to bigger affairs such as birthday celebration hog roast in Diss.
The menu 1 although our simplest menu still incorporates all these is great about British cuisine and hog roasting. The menu includes first and foremost a spit roasted pig served with apple sauce, stuffing and crispy crackling. The pig will be cooked on site in one of our specially designed hog roast machines that we both design and manufacture ourselves in our dedicated factory. The 50 – 70kg pig will be spitted onto the pole, placed into the machine and slowly rotated over two flames at either side of the machine. We sore the pig and add water and salt to create that crispy crackling that all of our customer just love and then we let the pig cook for 5-7 hours. It won't be long before a fantastic aroma fills the air and all your guests will begin to comment on how great the food smells, if never fails to impress. Whilst the pig is cooking you're Spitting Pig chef along with the assistant will be setting up the event. We bring all equipment to cover every eventuality, this can included, our own electricity, lighting, covers and even fresh water should it be necessary. All this combined ensures we are a completely mobile unit being we can cook fantastic food anywhere in the UK.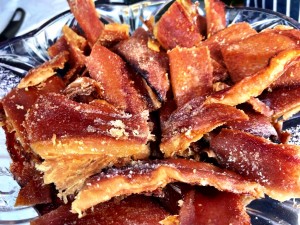 Here at Spitting Pig and hog roast Fakenham we understand that the customer comes first and that's why we cook at a time to suit you, so once you and your guests are ready we raise the pig up into its service position for all your guests to marvel at. It acts at a fantastic centrepiece, your Spitting Pig and hog roast Great Yarmouth chef will then begin removing the crispy crackling for everyone to enjoy and we can then begin service. All the meat comes freshly carved from the machine so you can guarantee the tasty most succulent portions for each guest. The pig comes accompanied with a homemade apple sauce and stuffing all made fresh on site and freshly baked bread rolls that we pick up from the bakers on the morning of the event. We also ensure that on every event we make sure that there is enough food for everyone to have a second portion that way you can be sure that your guests will leave the event totally full and satisfied. After everyone has eaten their fill the Spitting Pig and hog roast Kings Lynn team will discreetly clear everything away and tidy up leaving nothing left you for to do but relax safe in the knowledge that your catering was a complete success.
The menu 3 option uses the base of menu 1 that has been so successful over the years add something a little extra. With the menu 3 option you get a choice of 3 salads specially prepared on site by your Spitting Pig and hog roast Lowestoft chef. Choose from our list of mouth watering salads that include such favourites as Mediterranean, crispy Thai and tomatoes and basil or create your own to really customise the event to your liking. Also included in the menu 3 are warm new potatoes cooking in a garlic and herb butter plus the crockery to eat from. It really creates an amazing dish for all your guests to enjoy.
Contact Us for More Hog Roast Info…
So now you know a little more about Spitting Pig and hog roast Norwich it's now time to get in touch and get your very own quote. Just call 0800 587 5899 or fill in the online enquiry form found on the contact us page. We aim to have all quotes prices and returned the same working day. So for your next event let Spitting Pig take control and relax in the knowledge that you've got the professional and the UK number 1 hog roast caterer on the task.