It's important for us to have a strong relationship with our clients; it's also had a very positive impact on the success of our hog roast Birmingham catering. Because most of our clients have advised our hog roast Coventry to their friends and work colleagues, with many of our customers coming back for 2nds, 3rds, 4ths and well, you get the idea! So many of our customers continue to return to us because our friendly team are great at engaging and getting to the bottom of the needs of clients, we always try to help you to organise your event as best you can. At hog roast Dudley its well understood by our team that dealing with the organisation of your even can tend to be very difficult and stressful, often making what ought to be an exciting build up to the big day being better described as frustrating – This is especially true for larger events where everything absolutely has to be perfect. For your hog roast Halesowen we'll guarantee your needs are met.
The areas we cover in the Midlands include – Birmingham, Coventry, Dudley, Halesowen, Molesley, Northampton, Solihull, Sutton Coldfield, Stourbridge, Wolverhampton, West Bromwich
Hog Roast – Quality Service
So you're interested in a hog roast Molesley but you're asking, 'what is a hog roast and why would I want one in the first place?' Well a hog roast is the name of a spit roasted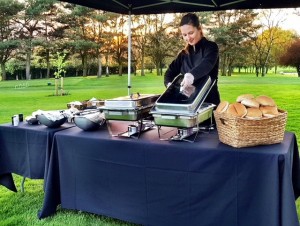 pig, and a spit roast is a method of cooking in which an animal is skewered and roasted slowly over a heat source. Hog roast Northampton do both spit roasts and hog roasts. Traditionally this was over an open wood fire, today most our machines for hog roast Solihull and the larger Midlands area are gas-powered, although we still have machines that can make use of wood or coal. The animal is skewered and cooked very slowly over the heat source, historically with humans turning their pole occasionally so that the animal is cooked evenly and throughout. Again, today is a little different because all of our hog roast Sutton Coldfield machines are capable of rotating the skewer without human help. Either way, the process of a hog roast Stourbridge is a long one, but the wait is worth it because good things come to those who wait, and a spit roasted hog is definitely a good thing! You'll have real difficulty finding another hog roast caterer – never mind a traditional caterer – who can come within reach of our hog roast Wolverhampton or hog roast West Bromwich.
Fresh Ingredients…
We've made hog roasting even better by using fresh organic, ethically reared produce for your hog roast Walsall. Animals given freedom to roam and graze naturally are best for a hog roast in Walsall. There's also ever increasing pressure on small family farmers from the big business factory farming industry, so we're more than happy to lend our support to these farmers and butchers however we can, and we're sure that most of our customers appreciate this for their hog roast in West Bromwich. In days gone by you couldn't be blamed for thinking that top class catering and low prices were antithetical, but we're strong believers in giving people a fair price for their hog roast in Wolverhampton. We don't over charge for their catering because we know you're probably spending enough on the event as it is, without paying overs for your hog roast in Stourbridge on top of what you're already paying for venue and entertainment.
Specialist Hog Roast Services In Your Area
Hog roast in Sutton Coldfield can cook hog roasts but we can cook spit roasted chicken, spit roasted lamb, spit roasted beef and spit roasted lamb for your hog roast in Solihull, we can spit roast any meats you want as long as the animal's legal as a food. For your hog roast in Northampton we can also serve grilled burgers, sausages, chicken wings and other foods. And we can boil foods in a pan with our epic machines, which is why we offer so many boiled and grilled dishes on our menus with a hog roast in Molesley. Potato dishes, salads, canapés and delicious desserts are integral to our hog roast in Halesowen catering.
Outstanding Customer Service…
Our reputable customer service will assist you in making your hog roast in Dudley perfect; we'll cater the event to your preference down to a tee. Hog roast in Coventry is the #1 for wedding catering, party catering and business catering in the Midlands. Your Coventry event is just as good as a hog roast in Birmingham and we cater for events that are small and large, there's no number too big or too small. Please call us for more information on our Midlands catering service.
Midlands – Mobile Catering
So now you know a bit more about hog roast Birmingham and how we operate as the most successful mobile catering unit right across the midlands, it time to learn a bit more about the staff here at hog roast Coventry. At the core of every successful business is a group of people that understand the customer needs, offer unrivalled service and are extremely knowledge about the industry they are operating in. We here at Spitting Pig and hog roast Dudley know how important is it to have the right people working with us and that's why we are both very selective in our recruitment process and are constantly reinvesting in our staff through training and development scheme. Firstly at the heart of the business and most important to you the customer are our Spitting Pig chefs, these are all handpicked and expertly training in the art of hog roasting. Working exclusively for spitting pig our chefs live and breathe hog roasting and we ensure that every chef that attends an event has years of experience working on hog roast events and with our machines.
Our chefs have done it all and seen it all from hog roast in Halesowen to large wedding hog roast in Molesley. Because we are a locally company often the chefs working on the event will be us the owners of Spitting Pig and hog roast Northhampton, this is especially true on the large events and weddings as we like to be certain that everything is running smoothly and you are greeting the maximum enjoyment from the day. So from the owners to the Spitting Pig head chefs to the future stars of Spitting Pig in our hog roast trainees you can guarantee that the staff cooking for your event are not only the best in the business but are passionate about hog roasting
Our Expert Hog Roast Staff
Another integral part of Spitting Pig and hog roast Solihull is the Spitting Pig waiting team. We also employ a full range of front of house staff, kitchen assistants, waiters and waitresses that can offer range of services. We can utilise this group of expertly trained member of staff in different ways and our smaller menus that are served as a buffet they may be on hand to help serve the meat and assist guests with the buffet. At large event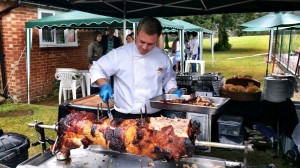 there could be up to a 20 strong teams who could have a variety of roles from attending the bar, serving reception drinking, setting up the dining area, to even carving the meat at your table. We offer a full range of silver service and there is no lengths we won't go to, to ensure that your event runs successfully and smoothly.
We also employ a cleaning staff that can attend the large events such as hog roasts in Solihull whose job it is to ensure that throughout the day everything is kept super clean and tidy, and these extend far beyond jus the catering department, we can help with some much more on the day, after all we are there to serve you. Finally at the core of the Spitting Pig and hog roast Sutton Coldfield is the office staff, these are the lovely people you speak to over the phone when you make an initial enquiry. The office staff will help you in anyway possible from pricing menus for you, creating new options and booking in your events.
Your Hog Roast Event – Contact Us
So now you know the different staff member that we have at our disposable hopefully you'll begin to understand the magnitude of what is possible. So if you're planning a hog roast in Wolverhampton or maybe even a wedding hog roast in Stourbridge make sure you choose the professionals. Call today for your no obligation personalised quote for the menus for your choice, our office number is 0800 587 5899, you can also fill in the online enquiry form found on the contact us page. We aim to have all quotes back to you the very same day. You can also personalise the menus in any way you like and there are lots of add on extras such as desert options, starter options, tea and coffee ect. Also if you have any questions about Spitting Pig and hog roast Birmingham all you need is to give us a call and we'll be happy to help.