Included in the Doomsday book from 1086, hog roast Middlesex is one of the most important and central counties in the United Kingdom. Since the days of medieval jousting and banquets to the subsequent Roman invasion and the following reign and luxurious dining of the Tudors and Stuarts, they have all had one thing in common. The use of quality locally sourced meat for exquisite elegant banquets. The central theme of the Pig, Boar, Beef, Lamb or Chicken slowly turning over a generously stocked crackling fire was not only the main way to cook for large amounts of guests but also a luxurious centre piece and talking point as the crowd and guests gather round the roasting spit.
Traditional Hog Roast
Today Middlesex is a world away from this setting due to its busy metropolis environment. The advent of cars, trains, planes and computers has taken away the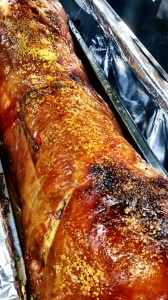 primitive eating experience in exchange for convenience cooking and microwave dinners. The rush of the city is reflected in the eating habits of the people who frequent it. At Hog Roast Machines we provide a step back into traditional eating combined with the convenience of modern day life.
We can bring a traditional country eating experience to your urban doorstep mixing the ancient luxury of hog roast in Middlesex dining and modern twenty first century living. Modern life lacks the organic, wholesome, enjoyment of traditional cooking methods. Watching the succulent meat tender before your eyes makes eating it much more enjoyable as you watch the spit turn and the meat become more crisp and tender. This is one step above the traditional barbeque which often leaves meat uncooked in the middle or burnt on the outside. Our Hog Roast Machines ensure complete cooking throughout and can be used again and again when cleaned. Hand built and CE approved we also give all our machines our own guarantee.
Hog Roast Machine Hire
You can enjoy the relaxed openness of a hog roast spit and the succulent juicy meat it provides without all the effort of assembling, cleaning and maintaining a spit machine we will even deliver it straight to you and then pick it up and clean it for an additional fee. The roasting machines are ideal for the busy commuter looking to cater for an indoor family event or even an outdoor garden party. Our roasting machines provide enough food for a large group of people and it is ideal for a business or promotional event. The smell of the cooking meat and the warmth of the fire attract people towards your stand or business in the same way it has done for hundreds of years. Our Hog Roast machines for hog roast Middlesex have proved a big attraction at many indoor conferences and outdoor events and we could bring a lot of attention and people to your business and event. For the busy family or business person we will take all the stress and organisation from you with our expert staff, giving you the chance to relax and concentrate on your business hassle free while Hog Roast Middlesex takes care of all of your catering needs.
DIY Hire…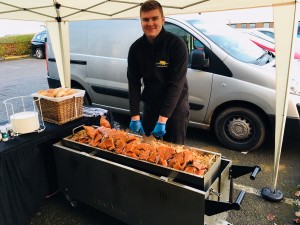 It is also worth noting if you are looking to save money that our machines are available to hire without staff if you are interested in using the machine yourself. Our staff will help you set up and give you instructions on how to use it but the cooking, preparation of the meat and cleaning can all be done by yourself at a fraction of the usual price. Ideal for more hands on chefs and organisers who want to be more involved with the cooking. We provide the gas, machine and even the meat if requested, you are free to do the rest, just let us know when you want it delivered and when we can come to take it away at the end. You can e mail us at or phone the hotline on
Contact Us Today For Hog Roast Info
We have a range of Roasting machines available depending on your needs from the smaller Titan spit hire ideal for small gatherings and indoor family parties to the Larger Pro Hog Hire machines catering for up to a hundred and fifty people at large Corporate Events, Festivals, Fairs and Parties all across the Middlesex area. We are able to deliver, assemble, cook, serve, clean, and remove all your catering needs at a much cheaper rate than other catering companies. So if you live in Middlesex and are thinking of making your party, event or even wedding unique and something more memorable than the usual drab buffet selections, check out for all your catering needs for a hog roast in Middlesex.