As one of the largest cities in the UK, Manchester is a thriving centre of events, private parties and weddings. Manchester is such an important city for Spitting Pig and we typically find that we are at least doing one or two hog roast events there every week and even more in the summer months. I love working in the city and its surrounding towns it's so vibrant and you always meet great people. That one of the best things about working at Spitting Pig is that you are constantly working in new environments and every day is different. Here is just a taste of some of the events we have worked on in and around Manchester this past year. Hopefully this will show you what we here at Spitting Pig can offer your next event.
We cover the following areas in Manchester – Altrincham, Oldham, Sale, Salford, Stockport, Wigan
Hog Roast Events Across Manchester
We have just recently completed a hog roast in Altrincham, it was a fantastic day and all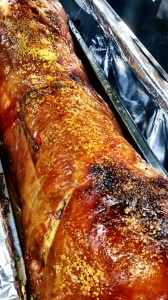 the guests commented on how great the crackling was. We arrived on site 6 hours before the service. We always ensure that whatever the event all your food is freshly prepared on site right in front of you. So for the hog roast Altrincham all the guest saw the pigs slowly turning has they arrived, truly a wonderful sight.
We did a hog roast in Oldham earlier this season for a wedding. It was a beautiful day at a lovely wedding venue just outside the town. For a hog roast Oldham and especially for a wedding we need to be as flexible as possible. On that particular day the wedding service finished early so the guests wanted feeding a little bit earlier. This of course was no problem for us as we always prepare as such so that we can move the service time around if circumstances change.
One event that does stick in my mind as a hog roast in Sale it was one of my personal favourites. Not only were there a few local celebrities there but the garden we were working from was beautiful. For the hog roast Sale and any other event we can work absolutely anywhere. We can provide all our own covers and we can bring all the serving tables. Also we use purpose built hog roast machines and these are design to fit in event the smallest areas which means working indoors, outdoors or in tight areas is absolutely no problem for us.
Salford has had massive rejuvenation in the recent years, and Spitting Pig was very proud to work at the opening of the new media centre. We cooked at hog roast in Salford for over 300 guests. The hog roast Salford or anywhere else in the country is available for as many guests as you require. We have cooked for numbers as low as 7 to numbers as high as 1000 so no event is too large or too small. We always being plenty of food to any event to make sure there is more than enough for everyone and those who want to can have extras.
Stockport is one of the more popular locations we work at across the UK at hog roast in Stockport is a great way to impress friends, family and colleagues. Having a Hog roast Stockport or indeed anywhere else is hassle free when you book with Spitting Pig. We cover everything on the day from serving, preparation to tidying everything away when we leave. We can even help arrange marquees, entertainment and can help choosing a venue. Our 25 years worth of experience has made us experts at event management and we are more than happy to pass this knowledge onto you.
Finally a hog roast in Wigan only last month is just one example of how we can tailor any of the menus of the this website to your personal preferences. At this hog roast Wigan the event organiser want three different types of meat to offer his guests plus is own choice of vegetables and condiments. This was no problem for us, we love a challenge and you'll be amazed at what we can create. We often do themed events throughout the year and we like to be creative. So take a look at the menu available on the website and let us know if you'd like something extra special at your next event.
Event Catering – Weddings And More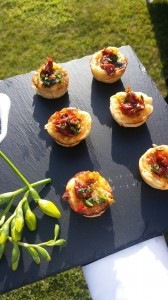 One of the most important aspects of the Spitting Pig Company is our wedding catering division. Wedding are such an integral part of what we do that we have dedicated an entire section of our website with the aim of informing you the customer about our services. A wedding should be a day you remember forever and because catering is such a big part of the day it really is essential that you choose a company you can trust to create the food of your dreams. We here at hog roast Altrincham have been through this process more times than you can imagine and consider ourselves industry experts with regards to wedding catering. From small wedding hog roast in Oldham to huge and extravagant events we have create a menu to suit every event and budget.
Menu Options – Tailor Your Hog Roast
Take our wedding menu 1 for example we give the customer a complete range of meat options that includes our famous and traditional spit roast pig but also has the option of spit roasted spring lamb; whole spit roasted turkeys, local free range spit roasted chicken, truly mouth watering. All the meat options come with their traditional accompaniments, for example the spit roasted pig come with a homemade sauce and stuffing whilst the spring lamb is seasoned with rosemary and is served with both mint and mustard sauce. All the food on the day is prepared on site by your hog roast Sale chef and the team, also each wedding menu come complete with a waiting team that will not only serve the food but will also be on hand during the day to help the event run smoothly, this could include things such as running a bar for you, serving reception drinks, or addressing the guests. We believe it's this service that sets Spitting Pig and hog roast Salford apart from other catering companies, we understand that on your wedding day the service has to be of the highest quality and that why we use plenty of experienced member of staff that regularly work on weddings to ensure that your day runs as smoothly as possible.
Vegetarian Options…
In addition to the meat options we also a provide a vegetarian dish that is freshly prepared on site, we take our food preparation very seriously and we like to ensure that those guest with certain dietary requirements are fully catered for and still get to taste the magic of Spitting Pig and hog roast Stockport. Also included in the wedding menu 1 with the main is a choice of 3 salads again all prepared fresh on site using local and ethical produce from our extensive lists that include classic favourite to unique and original Spitting Pig creations. Our menu 1 is just perfect for a wedding of any size and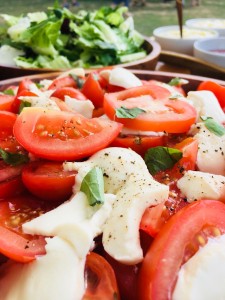 we cater right across Manchester from hog roast in Wigan to hog roast in Altrincham.
So now you know a little more about our wedding menu 1 why don't you take a look at our other wedding options, as menu 1 truly is just the beginning of our capabilities. We have worked on a wide variety of weddings from wedding hog roast in Oldham to fantastic wedding hog roast in Sale. We also have a whole host of other exciting menu options to choose from our private party, corporate event and Christmas catering section. And remember you can customise any of our menu however you like.
Contact Us – Plan Your Special Event
So make sure you choose hog roast town and Spitting Pig for your next event. To receive your personalised quote please fill in the enquiry form found on the contact us page or give us a call on 0800 5875899 and one of our assistants will be more than happy to take your call. Our office is open Monday to Friday 9am – 5pm and we aim to respond to all quote requests the very same day. You can also keep in touch with us via facebook and twitter and feel free to take a look at our blog its full of videos and photos and stories about events right across Manchester. Our latest news section gives our readers updates on what we are doing month to month and here you can find lots more information regarding our menus, packages our services and even a few nice comments from the catering we provided that month.