Hello and welcome to Spitting Pig Leicestershire the first choice for hog roasting in the county. We are available for private parties, weddings and corporate events all year around and we have a wide selection of menus for you to choose from that range from the very simple and rustic 'pig in a bun' to the exciting and extravagant full service wedding menus. We have been catering right across Leicestershire from the last 10 years from hog roasts in Hinckley to wonderful wedding hog roast in Leicester. We consider ourselves experts in the art of hog roasting and would relish the opportunity to give you the chance to sample our delicious crackling and juicy tender meats. Hog and spit roasting in truly a unique and traditional way to cook that we have brought in the modern age. Our state of the art hog roast machines that we build ourselves have completed hog roast in Loughborough and have produced fantastic meats for hog roast in Melton Mowbray, every year our reputation for a fantastic hog roast experience grow and grows.
We service the following areas in Area in Leicestershire – Hinckley, Leicester, Loughborough, Melton Mowbray
Hog Roast – Choice And Variety
Here at hog roast Hinckley we like to offer choice and variety and that's why we have several accessory kits for our hog roast machines. We can use the spit kit for your hog roast Leicester, here the pig or lamb will rotate over two flames that will slowly cook your choice of meat. There is absolutely no better way to cook meat, you'll find the crackling to be super crispy and the meat juicy and tender. Once the pig is cooked on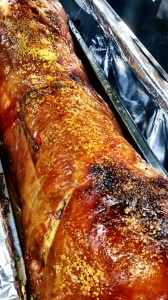 the spit we raise it up into the service position and it becomes a wondrous sight to behold as special trained hog roast chef beginning to carve and serve from the machine.
We also have a hog roast kit perfect for serving large numbers and a wide variety of meats. For example for a hog roast Loughborough event that has a large number of guests all with different tastes and requirements we could use the hog roast tray to cook a large pig and maybe some strips of beef and even some jacket potatoes. Here at hog roast Melton Mowbray we can cook for any number of guests for any menu you like even one you've create yourself.
Finally a lot of customer request BBQ options in addition to hog roast and in order to meet this need we designed the BBQ set, here you can use the machine to cook sausages, fish, steaks burger ect in addition to hog roasting. This is great for customers wanting to give their guests a little bit more choice and variety and it works fantastically well. So whatever menu you require we have the machinery and most importantly the skills required to make you next event a success.
Market Leading Hog Roast Service
So please feel free to have a look through our website and familiarise yourselves with our different menu ideas. We have designed menus especially for certain event, private parties, corporate events and weddings. Once you have a few ideas then get in touch with either by phone or using the enquiry form found on the contact us page. Just by getting a view details about your event we can have your very own personalised quote sent over to you by email the very same day. Then going forward if you ever need to talk to anyone regarding the event you need only to pick up the phone and we can put answer any questions you may have. We can even come and see you and the event location if you like. When you decide to book we assign your event to one of our specially trained spitting pig chefs and the team. That way you can talk directly to the team who are coming to your event to make sure everything runs perfectly on the day. If you need to change anything at all before your event then that won't be a problem at all we can change numbers of people, serving times, menu choice with very little hassle at all. So why don't you give us a call today and let us make your next event extra special.
Event Catering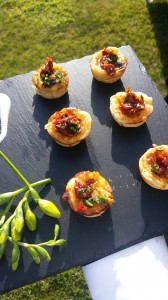 So what does a typical event entail when you book an event from hog roast Hinckley, well firstly you can rest assured that you are in good hands we here at Spitting Pig like to go above and beyond what is required to make your event special. We take pride in our work and right from the moment you get in touch with your initial enquiry we are on hand answering any questions you may have. From hog roasts in Leicester to large corporate events for hog roast in Loughborough we treat each event individually that way we can give a personal service and really make sure that you receive a catering package that suit you and your event. Throughout our website your see a large variety of menus all designed for different types of events, these are tried and tested creations. Therefore we usually suggest that if you're unsure on your catering requirements to look through these options and choose one that appeals to you. We have lots of different combinations from hog roasts, to lamb roasts, to barbeque options all worked around events such as private parties, wedding and even corporate events. For example one of our most popular menus for hog roast Melton Mowbray is the private party menu 3 option. It's great for birthdays, anniversaries, corporate meetings and any type of celebration.
It's a very simple yet effective menu that includes a spit roasted pig roasted on site with apple sauce, homemade stuffing and crispy crackling. This comes accompanied with freshly baked bread rolls and three salad options all prepared on site by your Spitting Pig team. We like to take care of everything on the day and that means that our menu 3 and in fact all of our other menus come with serving tables, cover, staff and of course after the event we clear everything away leaving you to enjoy the rest of the day. Indeed with some of our bigger menus we can offer so much more, table service, canapés, deserts, drinks receptions and bars are just a few of the add on available on our menus.
Tailor Your Hog Roast Menu…
We are also conscious of the fact that often our customer will want to customise a menu to make it personal to them. We actively encourage our customers to make changes to our menus or even start from scratch and make their own. That way you can be certain that the catering at your next event is personal to you and your guests. In the past we have worked on some truly unique and exciting events right across the county of Leicestershire. Events with theme that includes, the Wild West, a medieval banquet, fairytale wedding and many many more all created their own menu which we brought to life on the day. So if it's a hog roast in Leicester or maybe it's a your special day and you'd like to create your own menu for a wedding hog roast in Loughborough, then make sure you give Spitting Pig a call and let us take care of the rest.
Once you've chosen or created your menu and decide to choose the Leiceste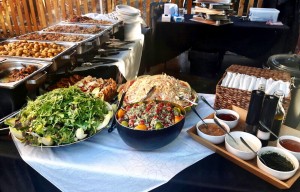 rshire favourite hog roast caterer for you event you'll be looked after by our catering team. Here you'll have direct contact with our one of our hog roast chefs you'll actually be attending and running the catering at your event. Here you'll have the opportunity to make any adjustments or just let us know a little more about how you want the event to run.
Contact Us – Unrivalled Hog Roast Service
Here at hog roast Melton Mowbray we believe this contact between the customer and the catering team is part of what makes us so successful on events. We believe that there is no substitute for preparation and that's why on the bigger events we will even do a site visit prior to the event to we can be certain that your day will be hassle free. On the day of the event whether it's a small hog roast in Hinckley or something a lot bigger we still stick to the same core principles that has made us so successful for all these years. Here a hog roast Leicester we believe that at every event there should be freshly prepared food created using only the finest ingredients, unrivalled service and course a friendly smile. By sticking to these few simple ideas we can be certain that your event with Spitting Pig will be a huge success. So if your next event is in the wonderful county of Leicestershire then Contact us today and let us take it from there.