If you're throwing an event and don't quite know which catering is right for you, or affordable, you're in luck. Hog roast catering is not only pound for pound as good as the best for taste; it's also very affordable and a great way to get amazing catering at your event without breaking the bank in the process. For example a hog roast in Dartmouth is really affordable. And if you're talking hog roasting we're the only caterers to stand out from the crowd, draped in excellence we tower above the competition.
We cover the following areas in Devon – Exeter, Plymouth, Torquay, Dartmouth
Professional Hog Roast Services
For years self-styled experts have been shorting their customers with lacklustre chefs, machines and food. But we're the only company that can give you the best hog roast because we aren't in the business of just making money, we're passionate about hog roasting and we're driven to take it forward and make hog roast catering the most popular catering in Devon. A notable distinction of hog roast Plymouth is that our company makes all of our own spit roast machines. Myself and several of my chefs and engineers regularly come together to work on machine designs, we have a few different models that are so much better than other machines on the market that we accidently walked into a whole new business realm! The machines that we made for our catering were so popular that we became inundated with requests for them from our customers, restaurants, pubs and many other catering companies. To date we've sold thousands of these machines and our machine manufacture business is thriving, at any given moment there are hundreds of our machines on hire to clients for hog roast Dartmouth or hog roast in Torquay.
Caterer Of The Year…
With such demonstrated hog roasting expertise why consider anyone else for your catering. You're still not sold? What if I told you that besides being a hog roast machine innovator, we've also won the award of 'Caterer of the Year' 2 years running in Devon and just last week did a hog roast in Torquay for the England Rugby team – Now if anyone knows a top quality feast when they see one it's a coach-load of 20 stone behemoths. The reason people come to us for their hog roast Torquay can't be answered in a few words, the truth is there's a plethora of factors that make us the favoured choice for a hog roast in Devon. Some people like the flexibility of our menus, others like the fact we use local Devon pigs for hog roasts, and some see our prices as being fairer than the rest. That our food tastes best probably has a lot to do with it, mind!
Hog Roast – Celebration Events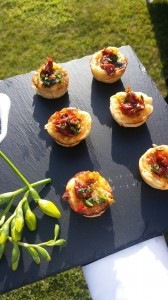 Weddings are a great occasion for a hog roast in Plymouth because of the impressive dramatic presence of hog roast machines in full-flight. But equally popular in Plymouth are hog roasts for every day parties and celebrations. We cater for a multitude of parties in Devon, in both summer and winter. A back yard barbecue in the summer is a fantastic time for hog roasting, but winter hog roasts are just as popular – Halloween, Bonfire Night, Christmas, End of year work parties, all events that are suited for hog roasting. The trend being that hog roasts aren't out of place at any event, save for maybe a PETA convention. We also have different menus to suit different events, we have formal and informal menus, single-food menus such as the pig roast roll to multiple-choice menus that give your guests a large selection of meals to choose from in either an open buffet or sit down meal format. To come full circle we're also one of few caterers to be able to cater indoors and outdoors. The spit roast machines that we manufacture are gas powered, allowing for indoor cooking. It's important though that the room we'll be doing the hog roasting in is well ventilated, so we'll have to take a look at your choice of venue if we aren't already familiar with it just to be on the safe side.
If you're tired of what passes for food at most British parties then our tasty hog roasts are the best way to keep your guests happy, the tempting aromas of our hogs as they cook will build up an appetite like no other, and the crackling is the best you'll have the pleasure of sampling. Having a hog roast at your event is no longer financially out of reach, we have competitive catering prices that make hog roast catering in Devon affordable for all.
Outstanding Culinary Hog Roast Experience
We experiment each day in our very own kitchen with new combinations and foods, always endeavouring to better our existing meals and find new foods to include in your menus. The dishes included in our menus are the very best of the very best, they're the result of years of hard work and hog roast research and they'll take your event from just good to amazing. We've got all the tools and skill to make your event a hog roast Exeter that's simply unforgettable. We're absolutely dedicated to giving you the best culinary experience and we have the highly professional award-credited chefs to make that dedication a reality for your hog roast in Plymouth. We've been providing catering of the highest calibre for more than a decade now and if anyone knows the ins and outs of enticing and imaginative hog roasting its Spitting Pig Devon.
Even though hog roasting is tremendously old and has been at the centre of large scale catering for as far back as humans have been cooking, we like to offer a traditional hog roast Torquay with a modern approach. And over time this approach and willingness to try new things for a hog roast in town has seen us morph into perhaps one of Devon's most prestigious – certainly one of the largest – providers of catering at local events.
You'll see our willingness to embrace creativity when browsing our menus for a hog roast in Dartmouth, we have the spit roasted pigs, turkeys, lambs et cetera that you would expect every hog roaster worth their salt to have, but then when you look more you'll find there's more than enough intricate menus that celebrate modernity and comprise thrilling, vivid dishes from all corners of the planet. We're not shy when it comes to serving sizes for a hog roast Exter, and that's something we've b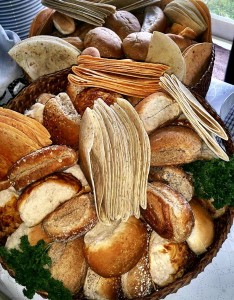 een complimented on regularly. There's always enough food to go around and it's impossible for your guests to go hungry. This is in stark contrast with a lot of successful caterers that have descended into a realm of pretentiousness, where most portions are fit for a child or a small animal, and there's so much emphasis on presentation that they've lost sight of good, warm food. We've seen how cold, bland and without character so many caterers are and we made a conscious decision that that would never be how we cook a hog roast in Plymouth – We have no time for intimidating pomposity.
Local Ingredients…
A hog roast in Torquay is the best in distinctive cooking and we make our distinguished food with the greatest local seasonable ingredients and free range meats, all are fresh from farms and are the reason we guarantee the great quality and flavour that we do, for all events and for all of our clients, without exception. Our use of fresh and local ingredients for a hog roast Dartmouth is the cause of our distinctive taste and better-quality catering. We're advocates to the fullest degree of using the local Devon resources that are available to us, and think it a waste to drive or ship in food from all over the country/world as a lot of companies do. In our eyes there's nothing better than fresh local ingredients and we think you'll agree too.
The Hog Roast Team – Here To Help
The staff at Spitting Pig are extremely polite and attentive by nature, which will make the process of booking and working with Spitting Pig for your hog roast Exter all the more easier, and rewarding. Aside from having hog roast chefs that are brilliant when it comes to cooking, we have many more members of staff including our chefs that are excellent event planners. Because of this we can also assist you in arranging the occasion by giving to you an expert opinion and an experience in Devon that can't be over stated. We've catered at such a great number of venues and seen so many other services being provided at the events we cater that we now have a knowledge of venues and services that can be very beneficial for our clients who haven't reached a final decision on the location of their event. We can tell you our experiences and give you the pros and cons of many of the venues for a hog roast in Plymouth.
Contact Us For More Info
A hog roast at your party is a winner and your guests will be over awed by the almost endless supply of amazing, lip-smacking food.