Hog roast catering in Derbyshire has seen a resurgence of late, thanks in part to the popularisation of rustic, local food and healthy food led by influential television chefs. More significantly hog roasting in Derbyshire has grown in popularity because of our elite hog roast Derby services. We're passionate about our hog roasting and over the years we've familiarised ourselves with what the people of Derbyshire want from their catering especially in hog roast Donington. We're respected highly for our ability to empathise with the desires and needs of each individual customer. We also understand that what's great for one customer could well be terrible for the next, which is why you'll find from our catering that not only do we have close to 20 menus – all of which with a number of variables within – we also maintain a policy of letting customers work closely with our chefs to create a bespoke menu for their event. The chefs we employ have ownership of the highest skills in the hog roast world and working from bespoke menus isn't just something they can do, it's something they love whether it's for a hog roast in Donington or a hog roast in Chesterfield. In a career that's so often routine our chefs are arguably at their best when working from new menus, cooking new dishes given to them by new customers.
We cover the following areas in Derbyshire – Derby, Donington, Chesterfield, Ripley.
Derbyshire – Proud History Of Hog Roast
Derbyshire has been inhabited by humans for thousands of years according to historians and there's a strong likelihood that hog roast in Derby goes back just as far. You could say that hog roasting is as much apart of Derbyshire cuisine as a Derbyshire Lobby or the much loved Bakewell Tart served recently at a hog roast Chesterfield. And without offending some of the more proud Derbyshire folks, our hog roasting trumps both! In fact, hog roasting beats anything you've ever tasted. There isn't a food quite as delicious and wholesome as a well cooked hog roast or spit roast. Despite having hundreds of thousands of years to evolve, spit roasting hasn't changed much, because there isn't much you can do to better it – Believe me, we've tried! We've worked tirelessly over the years to keep an edge over our competitors and the only improvement we've managed has been to make our machines more efficient and powerful, and to use the best produce we can get our hands on, and to employ the best chefs in the country. We're not in the business of cutting corners or doing just enough, our intention has always been to take hog roasting as far forward as we can, the only way to do that is to give our customers the best possible service at hog roast Ripley. That means using the best chefs, the best machines, the best produce and the best waiters for all catering events… Even our sales team are better than our competitors. It's a big reason for our success, we're the most popular hog roasters in Derbyshire especially for hog roast in Ripley because we believe that giving you anything less than the best catering imaginable isn't acceptable. In the long haul our exceptionally high standards have paid off, as we always knew they would. Now when you ask about hog roasts in Derby we're the name on everyone's lips.
Hog Roast Event Catering
We're often contacted by interested customers asking if we can cater for event x, y or z and the answer is always the same – YES! You can put a thousand different events, all unique in occasion, size and menu into a big hat, 1 by 1 we'll pull them out and say, "Yes, we can do that". We'll cater at your wedding, be it a Christian wedding, a Jewish wedding, Hindu wedding or Muslim wedding; we'll cater at your party, whether it's an anniversary, birthday, theme or seasonal party; we'll cater at a corporate event, whether a business breakfast, meeting or seminar; we'll cater at festivals, sports games and everything else under the sun. Hog roasts are great in all seasons, for all occasions and crowds.
Getting us to hog roast cater for your event couldn't be an easier, either. Just choose a few menus you like and use our internet form or phone us with your event details and we'll have a quote(s) for you come the end of the next day, usually sooner. From there you'll be paired with your spit roast chef for the day who'll help you with the menu and event needs, so that everything is just right for your event. This can be done over the phone or with email but if you prefer our chef can meet you in person on a time that's convenient for you.
Hog Roast Menus
Hog roasts are loads of fun but you aren't forced to wait till the day to start having fun, looking at your options and picking out a menu can be just as engaging and enjoyable. There's a ton of options to mull over and sink your teeth into, and we know that the menus will have your creative juices flowing and you'll enjoy choosing which dishes to have with your menu for your hog roast in Derby. When we say that we have a menu for every occasion we really mean it, because there's a menu for all seasons and all events. So what can we do for you, what are the menus we have to offer you?
Party Menu – These menus have been shaped and optimised to be great at a party, whether the party is a birthday party, a house warming party or an Olympic party. When you throw a party and you need party specific catering then the party menus at Spitting Pig are the optimal for your hog roast Donington.
Wedding Menu – As you've probably guessed the wedding menus are unique and intended to be had at a wedding. We made the wedding menus to be more glamorous and enchanting because we're aware of how important your big day is, and normal party catering just doesn't cut the mustard. Your wedding is deserving of the best and the wedding menus will make sure of that at your hog roast in Chesterfield.
Corporate Menu – Corporate catering is much more important than it once was, because corporate functions, business breakfasts and many other forms of corporate hospitality are very common these days, arguably more so than they've actually ever been. Because the market place is more competitive businesses are having to put in much more effort in order to thrive and grow. And a hog roast Ripley can help you in that regard with the unique corporate menus, created to adhere to corporate needs and standards.
Christmas & New Years Menu – The Christmas and New Years menus that we've designed are seasonal menus that are only available for a Christmas or New Year hog roast in Derby. Christmas and New Years are special and rare occasions in their own rights and we feel the seasonal celebrations are deserving of their own bespoke menus, which is why we created them. Seasonal foods like turkey and lamb are encouraged with these menus to keep up the traditional Christmas spirit.
BBQ Menus – We all love a summer bbq, probably because it's so rare for the summer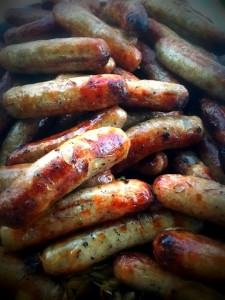 weather to be like summer weather. So when the sun comes out its fair to say that the barbecue and the beers aren't too far behind! If you're a lover of the British barbecue and want a hog roast Donington then you'll fall head over heels for our unique barbecue menus. A hog roast is a must have for your summer bbq and the bbq menus are well priced, too. A lot of people are now sharing the burden and chipping in with all their friends for Spitting Pig bbq catering. If you have a decent number of people and divide the cost it's almost as cheap as a normal bbq!
Themed Menus – The themed menus are menus with a nations theme, such as Australian themed hog roast in Chesterfield or a USA themed hog roast. These are perfect for expats who are home sick, or if you've got family over, or even if you're just throwing a party and want a themed menu for whatever reason. Maybe you and your friends are big on American football and are trying to put together a Superbowl party, the themed menus are made for these sorts of hog roast Derby.
Olympic Party Menu – Every now and again there's a one-off event or happening that's significant enough to merit a specific menu, and the 2012 Olympics is one of those rare events that's deserving of its own menus. To get in the British and Olympic spirit people all over Derbyshire will be having their own Olympic parties. We have hog roasts tailored for the Olympics 2012 to make your hog roast in Ripley the best in Derbyshire.
Contact Us – Bespoke Hog Roast Menus
And what's even better about all these menus is that you can easily make them your own with your food preferences. Or you can make a bespoke menu just for your event. For a quote within 24 hours call our office and enquire about our menu options.