If you've been searching for a professional hog roast caterer in Cumbria then you needn't look any further, we're Cumbria's most popular hog roasters and our prolific talent for cooking up mouth watering food has made us the go-to caterers for a hog roast in Ambleside or a hog roast in Barrow in Furness, hog roast in Windermere and, well, hog roasts all over Cumbria. Our hog roast catering covers the whole county of Cumbria including hog roast in Carlisle and there's no event we're not comfortable catering for.
We cover the following areas in Cumbria – Ambleside, Barrow in Furness, Carlisle, Kendal, Keswick, Kirby, Lonsdale, Penrith, Windermere
Hog Roast – Weddings
A favourite for hog roast Kendal, hog roast Kirby and hog roast Windermere is hog roast wedding catering. A wedding is a significant and special day by anybodies reckoning, and there's no better compliment to a wedding than having a catering service that's special especially for a hog roast in Kendal. Hog roasting is spectacular and if people didn't know the importance of the event they sure will when they see our marvellous, custom engineered stainless steel spit roast machines in full flight, making an easy meal of a near 100kg pig! With just 1 machine we can cater for a group of 300, we only need a few machines to cater for larger parties of thousands for a hog roast in Keswick. And because our own powerfully built machines do most the hard work for us, there's no need to over pay for hog roast catering because usually we only need 1 chef to 1 machine, where as traditional cooking methods require a whole team of chefs to cook for hundreds of people.
You're never short of choice with our menus for a hog roast in Lonsdale; we have many different menus designed especially for weddings, and also a selection of menus for all different types of parties and corporate events. For your hog roast Lonsdale, hog roast Ambleside or hog roast Penrith occasions we can cook anything from a rustic roasted pig sandwich to a large informal buffet with a choice of many starters, mains, salads and desserts. Whether you're in need of something simple and formal or an informal and bigger menu, all our menus have one thing in common – They're the most tasty and impressive in all of Cumbria.
Hog Roast Commercial Events
Cumbria today also has a growing business community and is attracting investment in many areas, our hog roast Carlisle, hog roast Keswick and hog roast Barrow in Furness teams are regularly hog roasting at corporate functions and business breakfasts. Business breakfasts are one of our many specialties and we have a specific business breakfast menu with the option of spit roasted pig with stuffing and served with apple sauce and crackling; spring lamb cooked in rosemary and served with mint and a mustard and dill sauce; as well as turkey, chicken and beef served with their own sauces and gravies; or a handmade 6oz burger and gourmet sausages. All the breakfast menus are served on special fresh white bread rolls. The breakfast snack menu isn't just a favourite in the business world, it's also ideal for any early morning occasions like sports games or markets, or even weddings and christenings. For traditional and rustic Cumbria and hog roast in Penrith you can't beat the simple and powerful taste of a pig roast sandwich. Better still; the sandwich snack menu is the cheapest menu we have! A spit roast sandwich is a great way to showboat your produce at the 'Made in Cumbria' farmers market in Kendal.
Professional Hog Roast In Your Area…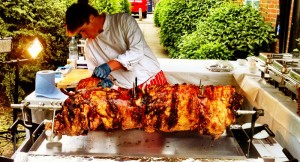 The natural beauty of our hog roasting is only matched by Cumbria's Lake District. So if it's something different that you're looking for you're in good company, because we're Cumbria's best known hog roasters for hog roast in Kirby and with our team of hog roast chefs and waiters making good use of our innovative and sought-after machines, we're the only caterers who can give you amazing food and service for a great price. We sit comfortable at the forefront of the hog roasting industry and set the standards across the board, be it the local produce that we cook, the great machines we manufacture and cater with, the trained chefs we employ, or the fact we regularly pass all hygiene and safety laws with flying colours, without ever breaking a sweat.
As hog roasters we pride ourselves on quality and most importantly the satisfaction of you, the client. If you really want to wow your guests with top class catering in Cumbria then you've found the right people for the job.
Hog Roast Specialists – Book With Us
The best decision you can make is to book Spitting Pig. Hog roasting has been used throughout the ages for large party catering and it's as effective today as it was all those thousands of years back. In fact, we think it's more effective today, because it's not the familiar sight it was in the past. Because genuine hog roasts are so rare they strike a more imposing chord with guests. It's an overused word that's more often than not used incorrectly, but hog roasting is awesome by the very definition of the word. Our catering inspires reverence and is respected and praised in equal measure for being so good and visually cutting.
Ideal For Corporate Events…
Hog roast Ambleside is valuable to have with corporate events and we've told you why, however that's merely a small piece of the hog roasting pie. A private or public party and a wedding are both recommended for a hog roast in Barrow in Furness. Hog roasts are so imposing that they command attention and respect, and why wouldn't you want something as impressive as a hog roast for your party, especially for a wedding. Weddings more than anything tend to be grand affairs that lend themselves to ritual and ceremony, and a hog roast can be the most excellent addition to a wedding. If you're aiming to amaze as well as feed at your wedding then Spitting Pig will do just that. We'll do more than that; we'll leave your guests going home feeling that they'd had the best meal of their lives. A brilliant addition to the perfect wedding.
We can make your hog roast Carlisle spot on for your events be they formal or casual. Our menus are wide reaching and all encompassing and there are menus for formal events and menus for relaxed casual events. There are menus that we can serve in a sit-down meal format, a sit-down buffet format or a help-yourselves buffet or snack sandwich format. Or maybe one menu's taken your eye but you want it served in a different way, or you need waiters, or want to add a drinks bar to the menu. If you bring this up when you ring the office we can make this happen quite easily for you. Catering is only one way to have a hog roast in Kendal. There are a couple of more avenues for a hog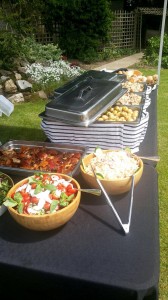 roast Keswick if you use Spitting Pig.
Because while catering is what we do – not to mention it being nearest to our hearts – it isn't necessarily all that we do. There's quite a lot more we can do for you, actually. As an alternative to Spitting Pig catering we have available a machine hire service for your hog roast Penrith that's escalating in esteem and attractiveness by the day. And when you see the price you won't need a psychic to help you see why it's the attractive alternative it's swiftly grown to be.
Hog Roast Info – Contact Us
With the hog roast machine hire package it's possible to have a machine for your event for less than 200 pound. The deals start at £195 for a day's hire and progress in price with the model of machine that you choose and the length of time you need the machine for. The machines are expertly crafted and have a stainless steel finish to give some real aesthetic presence at your hog roast Carlisle. Machines like catering is limited though, so get on the phone today to book either of the two early.