Cornwall is one of the beautiful counties in the whole of the British Isles; thousands upon thousands of national and international tourists flock from all over the world to marvel at the countryside. The rolling hills, sandy beaches and quaint little villages are what really set the county of Cornwall apart and that's why we are so proud to call it home. We have been hog roasting in Cornwall for years from hog roasts in Bodmin to glorious wedding catering for hog roasts in Falmouth. We are the premier hog roast company in the county and our reputation speaks for itself. From hog roast in Newquay to even as far as hog roast in Penzance we are known far and wide for providing excellent service and unrivalled food. Life began for us over 10 years ago when we decided to start an additional business to our farm shop. Our first booking was a hog roast in Saltash, it was fantastic we really enjoyed begin out in the sunshine working in new and exciting places and making sure people tasted a truly wonderful experience. Even from our first event people began to talk about the crispy crackling the freshly baked bread and vast array of vegetables and soon word began to spread. It wasn't long before we were cooking again for a hog roast in St Ives and then a hog roast in Truro.
We cover the following areas in Cornwall – Bodmin, Falmouth, Newquay, Penzance, Saltash, St.Ives, Truro
Hog Roast Success
That first summer we were amazed at how quickly the business picked up and it wasn't before long that a part time operation in addition to our farm turned into a full time business. Is soon seemed that everyone want a hog roast and it wasn't before long before we got our first wedding booking a hog roast Bodmin. It was an honour to have someone confident in our service to trust us enough to book their wedding with us and we repaid this trust with an amazing spread of food from freshly prepared salads, spit roasted pork and beef. This was a meal that we replicated a few weeks later at a hog roast Falmouth which went down fantastically well. Over the years we have gone from strength to strength but we haven't lost touch with what makes us so unique, stick to our core values of making sure all the food is prepared freshly on site and all our produce comes from local suppliers and more than often our own farm. We recently worked at a hog roast Newquay and all the guests commented on how great the food was, and it's because we stick to the basics.
A Refreshing Approach…
Here at Spitting Pig your complete peace of mind is our ultimate goal that that why we have a set of core values. We always make sure that we arrived on site up to 6 hours early and prepare all the food fresh on site. We bring all our own equipment from catering vans, glazebos, serving tables, ect and only need a supply of water and electricity from you the customers. Whether is a hog roast Penzance or a hog roast Saltash we can cater for your every need, we provide a number of different menus from the very simple to the extremely extravagant however they are all completely customisable and you can change the menu to suit it down precisely to your need and requirements. We love a challenge for example we have done western theme menus for a hog roast St Ives or medieval themes for a hog roast Truro. So why don't you get in touch and let Spitting Pig make your next event extra special. We can quote for any size of event and we aim to get a personalised quote back to you the very same day. Just fill in the enquiry form found on the contact us page of our website or alternatively give us a call at our office on the number above and one of our assistances will be more than happy to answer any questions about our company or your event.
Also if you want to take a look at some of our menu options then just click on the catering link on the home page to find our menus. We are tailored menus for private parties, weddings and corporate events but as we said earlier all of our menus can be changed in any way to suit or needs.
Hog Roast In Your Area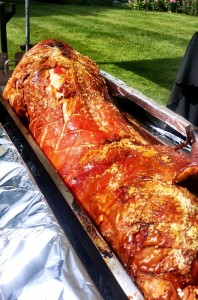 For a hog roast Bodmin there's a never ending selection of menu alternatives to make your hog roast in Falmouth the most remarkable event your guests will ever see in their lives. We're the epitome of being detail orientated, and we cater your event down to the last stated detail. No matter how small or trivial a preference might be, we make sure to get it just right because we believe it's the little things that add up and make an event truly great. There are plenty of caterers out there that have an aversion to customers who know what they want and are specific in how they want their catering to be, but we're not one of them. What others would call difficult, we consider to be favourable – catering for people who know what they want and how they want their hog roast Newquay is beneficial to us because catering for customers with high standards is the most rewarding experience when they turn around and thank us for doing such a wonderful job for them.
We're well versed in doing wonderful jobs and it's something that comes natural to us now, having done so many thousands of hog roast in Penanze. It's straightforward for us to get the best results, every time, because the chefs who work for Spitting Pig have gastronomic talent and know-how in abundance. Their exuberance for hog roasting is on display for all to see when they cook a hog roast Saltash at events. The top hog roast chefs in Cornwall are all part of the Spitting Pig team and are available to be booked for your wedding or party catering.
Hog Roasts – For Any Event
There's an endless list of events that can be made better by catering and a hog roast in St Ives could be a breath-taking addition to a sports game or event. So many sports teams big and large have loyal supporters who turn out to support their favourite players and teams through hail, sleet or snow, and if they're lucky a bit of sun! Being a fan or player can sometimes be thankless and it's great to give something back to both with the best hog roast Truro. There are lots of football and rugby teams in the country who hire a side-line or post game hog roast to warm up the hands and spirits. You can have a hog roast as an end of season dinner or awards function at the club house too. A hot, fresh from the machine roasted pig sandwich in fresh crusted bread rolls can't be contested for astounding taste. The inviting smell of a hog roast will work up an appetite and when it's time for serving your fans and players will practically mob our staff to get their hands on the Cornwall pig sandwiches. The secret formula of the celebrated Spitting Pig sandwich is in the amalgamation of exceptionally fresh animals straight from the farm, the most talented chefs in Cornwall, and superior hog roast equipment. The machines that we hog roast with are without peer
We can cater for any and all occasions whether corporate events, weddings, private parties and everything else in between. It makes sense to turn to Spitting Pig for your hog roast in Newquay because we're the jack of all trades and have the talent to make all events a success with our catering master class.
Events OF Any Size…
The hog roast Truro is offered to the public as a whole, and we don't mind if your private party is quiet. There's no quota with Spitting Pig, we're just as delighted to be booked for small events as we are hefty sized parties. If you were thinking of having a small birthday party for example and struggled finding a caterer who would take the job on, we will, even if your party is for only 10 people. But at the same time, we've got a formidable reputation for taming huge events, often with thousands of people being fed. We can cater a hog roast in Saltash at any type of event because we've got multiple talents and strengths to be able to do it.
Contact Us Today
We've got multiple machines, too – sometimes too many. That's why we have a hire service for people who might not have money needed for Spitting Pig catering, as a substitute we give you the chance to hire a spit roast machine from us for less than 200 pound a night, a real bargain if there ever was one.