For hog roast catering in Cheshire, we're the number one company if you're in need of a professional service that can offer supreme tasting food at a cost that's affordable. We have a surplus of experience catering at thousands of different events, we can hog roast in Chester, the hog roast in Crewe, and hog roast in Widnes, we hog roast all over the region from the big cities and towns to smaller rural villages. You won't find a better company than us for a hog roast in Ellesmere Port, hog roast in Neston. We excel at hog roasting and have used an untamed passion for hog roast catering to go far beyond what customers expect of us especially for hog roast in Warrington. We lead the way in more ways than one and have a combination of impressive hog roast machines, chefs, waiters, menus, produce and experience that when thrown together make us the best catering candidates for your hog roast in Runcorn event. There's nothing about hog roast catering that we don't know and there's no job too big or too small for our team of well-versed hog roasting experts.
We cover the following areas in Cheshire – Chester, Crewe, Ellesmere Port, Macclesfield, Neston, Runcorn, Warrington, Widnes
High Quality Hog Roast
Hog roasting has been going strong for thousands of years and we're committed to take it from strength to strength by providing a traditional and unique service that can't be matched for quality, entertainment or price. We believe hog roast catering should be so much more than just the food, our hog roast catering is also steeped in drama and bestows an impressive sight for your guests that's guaranteed to get their taste buds going at your hog roast event in Macclesfield.
There are tons of options to choose from with our catering, we have menus that include spit roasted beef, turkey, chicken, lamb and of course everybody's favourite, spit roasted pig. But we can cook roast other meats if you want something different, rabbits and pheasants are a popular choice for people customising our menus. All the menus we have offer vegetarian options and we can also use kosher or halal meat if desired. We work closely with all of our customers leaving no stone unturned in the quest to giving you the perfect catering service. We're constantly being thanked for our customer-friendly service, thanks in part to the structure of our company. When you book us for catering one of the first things that we do is pair you with your very own hog roast chef, throughout the process our expert chef will communicate with you directly to guarantee the catering is 100% to your liking. Our chefs have impeccable skills and apart from being remarkable chefs they're also highly trained event organisers who can assist you with your event planning, whether you need help choosing a venue or sourcing a graphic design company for invitation cards for hog roast Widnes.
Charming Cheshire…
Another big reason our catering is as great as it is comes from the fact we utilise the best Cheshire has to offer. The rural county of Cheshire has a history founded on agriculture and to this day much of the small towns and villages that make up Cheshire depend on local agriculture and food production as the backbone of the economy. This proud history of farming is utilised daily for our hog roast catering, because by in large we source our hog roast produce from farms within the local regions, all of the pigs, chickens and other animals that we rely on are reared locally by independent farmers who make their living in the husbandry industry. For hog roast Neston we might source our pigs from a Neston farmer or butcher, for hog roast Macclesfield we might get out chickens from a Macclesfield provider, hog roast Crewe has great lamb from a Crewe butchers, hog roast Chester uses great local mushrooms – Wherever possible we use local produce for our hog roast catering because we believe in giving back to people and places that have given us so much.
The Cheshire produce from independent farmers that we use goes a long way towards giving our hog roast catering that superior taste, texture and flavours that we're so well known for. It's just one of the many reasons that we're the first caterers to come to mind when you ask about hog roast Runcorn, hog roast Warrington and hog roast Ellesmere Port
Top Hog Roast Service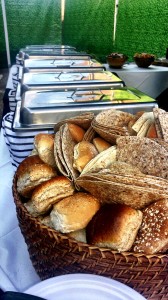 A hog roast Chester is one of the only ways to realise the potential of your event with delectable cooking. Fundamentally hog roasts are everything that you could ever want from event catering, and then some – food that's guaranteed to be tasty every time and a service that's authentically impressive, but without any of the pretentiousness of most great caterers. Hog roasting doesn't need to be, it's easy and it's simple and that's the way that everyone likes it. There's no need to over complicate what's worked for thousands of years and we've never made any attempts to, neither do we pretend that we're the world's greatest chefs because we aren't – but the truth is we don't actually need to be.
We don't need a team of Gordon Ramsay's and Heston Blumenthals because in the hog roast machines we have robotic super-chefs that do the best job imaginable without much interference! The bulk of the hog roast catering is done by the machines, the hog roast chefs keep a watchful eye and make it so that everything, be that the temperature or the seasoning, is 100% faultless. The chefs work day in day out cooking a hog roast in Crewe and have an uncanny knack for sensing how the hog's roasting and when it's just right to be tucked into by ravenous guests. The awesome taste of our hog roast town is defined by the meat and spit roast equipment that we use, and the chefs who know how to bring the two together to create culinary enchantment.
Expert Hog Roasts – Wherever You Are
Maybe one of the most understated reasons for booking us for your hog roast Ellesmere port is that we love to spice things up and promote customers to inject their own lease of life into their spit roast dinners and snacks. The way we do this is by giving you free reign on your spit roast snack to add your own flavour. We don't mind customers going off the tracks as it were and changing the menu to suit their hog roast Macclesfield event or their guest's tastes. Customers often do this by choosing their own seasoning and spices for the spit roasts. The set menus we have are quite traditional, lamb is cooked with rosemary and chicken is served with onion gravy for example, but we don't handcuff clients to these. If you think you can make the menu better for your party by making slight alterations we encourage that. Allspice, cumin, paprika, basil, cayenne, piri piri, coriander, pepper, five-spice, jerk spice, thyme – There's an almost never ending abundance of spices and herbs that you could use to make the perfect spit roast for your hog roast in Neston. Good food is good food but we realise that not everybody shares the same taste buds and some of us are more adventurous than others.
Hog roast in Runcorn also has the added bonus of coming without the risk of failure and disappointment, a lot of kitchens – mobile or otherwise – can have bad evenings, with 1 thing going wrong then the night spiralling from downhill from there. But hog roasting isn't like normal cooking, we don't overcook or make mistakes and have to start a dish from scratch, because it's a long process we see problems before they arise and adjust accordingly – so your food is perfect and served in a timely fashion at your hog roast Warrington, always.
Weddings, hospitality, and more…
It's also true that we're hired for a hog roast in Widness for different occasions. Customers book us most commonly for their wedding, corporate and birthday party hog roast Chester needs, a lot of our clients have different events they want us to cater at though. A barbecue in the summer is a popular booking, so is a hog roast at a christening, and in 2012 we're expecting a lot of bookings around the 2012 Olympics and the Queen's Diamond Jubilee. New events keep our minds sharp and we'd love to cook your hog roast in Crewe even if your event is completely unique and fresh to us. Hog roasts work so well at all events, there isn't an event that we know of which wouldn't be a perfect candidate for a hog roast Macclesfield.
Contact Us Today
We do so much for our customers and we know that you'll agree and be a customer for a long time if you decide to book us. We also have so many more services – hog roast machine hire and sale, for example – that you can see the benefits from at good prices. Call 0800 587 5899 today and book us at your event while you still can!