There are few places within the expansive British Isles that can boast the same levels of diversity and industrial capacity as Befordshire. Situated in the relative central area of England, Bedfordshire is great for people who both live and work here, as well as being an excellent travel destination. With places like Hog Roast Bedford and Hog Roast Biggleswade for example, there really is a huge amount to see and do whilst in Bedfordshire. In terms of our hog and spit roast catering trade – there really is no place better suited that we can think of. Having had a long and distinguished history in the catering industry, we know just what it takes when it comes to providing food to people at events which they will enjoy to the very heights of great potential. So if you want that perfect Hog Roast in Bedford, or equally if you require an epic Hog Roast in Biggleswade – you need look no further at all.
We cover the following areas in Bedfordshire – Bedford, Biggleswade, Dunstable, Leighton Buzzard
Hog Roast – Exceed Expectations
The catering industry in the British Isles is highly competitive. Over the years, the expectations of the public have grown and shifted through a greater enlightenment and appreciation for good food. As made synonymous through television programmes such as Masterchef and other celebrity led food based shows, the public is now far more aware of the culinary capacity of the nation, both in terms of the produce we generate as well as the way in which we prepare and present it in restaurants and at events. Thus, although the catering industry has become more competitive – it has done so for the right reasons. Nowadays, it is harder for the caterer of ill repute to stay in business, which in general is a great thing as the standard of catering for the client is generally increased. With our events in places such as Hog Roast Dunstable and in other parts of sunny and glorious Bedfordshire, such as Hog Roast Leighton Buzzard for example, we have ensured that we have been at the very forefront of this greater move towards better food across the region.
A Memorable Hog Roast Experience…
It all begins with the produce we use. Due to the fact that we strictly operate through the use of hog and spit roasting our meats, we ensure that we get the very best when it comes to taste, texture and enjoyment. There is no finer way to roast meat on this earth, therefore we utilise live flames with whole carcasses rotating over them. By harnessing this classic roasting method whilst infusing it with modern culinary influences, we ensure that our clients enjoy exquisite food, along with a theatrical experience which challenges the West End! Believe us, when it comes to meat preparation, our style of slow roasting over flames which our clients can see at every step of the way, allows for great times – always resulting in food which never fails to impress. So back to the produce – whether it's for a Hog Roast in Dunstable or whether the food is centred on wedding event catering with a Hog Roast in Leighton Buzzard, we always utilise the very finest of whole carcasses – sourced from farms that we trust and from farmers we have close relationships with. Through this intimate knowledge of the produce, we feel confident in roasting our meats from their raw states in front of our client's eyes at their events – nothing could be better as this heightens the theatre and really involves people in one of the most exciting and flavour inspiring ways to roast and cook meat.
Professional Catering & Menus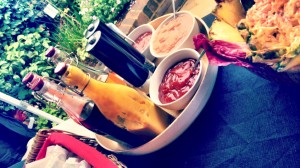 Our vast and expansive range of menus incorporate a whole host of meats, including whole pigs, whole lambs, whole turkeys, whole chickens, sides of glorious beef – spit roasted to your liking and the list goes on and on. Along with the glorious meats which we employ on our fabulous spits, we also create and craft sensational side dishes and accompaniments which complement the meats and help to create comprehensive menus. Our vegetables and salad ingredients are sourced with the same attention to detail that our meats receive – which, believe us, is a lot!
Our catering has been heaped with praise by some of the most accredited chefs in the country. The splendour of hog roast Bedford is made all the more better for the countless Spitting Pig employees who make a habit of pushing the boundaries of hog roast fineness, with their abundance of talent blazing the trail. In spite of the out of this world produce giving our hog roast in Biggleswade a real edge, the trademark taste of our hog roasts is only realised by combining the remarkable regional produce with the effervescent chefs at Spitting Pig, most of whom have honed their roasting talents over a great number of years within the catering scene. Hog roasting in itself is not particularly complicated by any means, but the small details and refined touches our chefs cater with are the difference between an average roast and a hog roast that's truly worth writing home about.
It isn't only the roasting of hogs that the Spitting Pig chefs stand out in, just as important are the astounding accompaniments and the great number of glorious dishes that are on our hog roast Dunstable menus. Hog roasting and spit roasting is doubtlessly the spine of our company and is the bedrock of our catering appeal, but we're more than talented in a good deal of other areas. There are puddings, soups, canapés and salads that the chefs craft with an astonishing amount of finesse and care – We like to think of these as an added bonus on top of the guaranteed-to-impress hog roast at your hog roast in Leighton Buzzard event. We're in sparse company as Bedfordshire's most diverse hog roast caterers.
Hog Roasts For All Events
At a lot of the events we've catered for there is usually only a need for one hog roast chef, who can quite adequately rise to the task of cooking for masses of people, sometimes even hundreds. At other events, such as those with menus that include countless different dishes, there will be a head hog roast chef and a second chef to help carry the work load. Even then you will find that two chefs is a very low number, but it's something we can do comfortably because our chefs are so good that they put plenty of others to shame – Struggling with big menus at big events is foreign territory to Spitting Pig chefs, they're in their element when getting their hands dirty at a hog roast Biggleswade.
The recipe for our hog roast success has been to keep our horizons broad and not get lost in the familiar. We have ample customer interest for hog roast in Bedford to be able to specialise and concentrate on just weddings, just parties or just corporate events. But we could never rob you of these audaciously tasty hog roasts by exclusively focusing on one type of event. We've purposely gone in the opposite direction by taking on and encouraging all sorts of occasions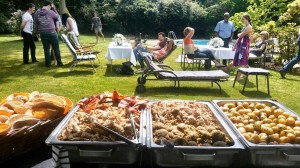 . The main of these are corporate, party and wedding events – but there's plenty of exciting and less in-demand events such as fund raising and award ceremonies that we've helped to make incredible spectacles for the guests in attendance.
Discover How We Could Help You…
Organising an event can be difficult. Because of the everyday stresses of planning events we've put in place an added company focus on our customer service, having realised it's an area many clients believe that caterers fall short on – Not with us! When booking or probing information for your hog roast Leighton Buzzard you'll be at ease and pleasantly surprised by the helpfulness of the sales team and chefs. Far from going through the motions, the key prerogative at Spitting Pig Bedfordshire is to help you to the best of our ability, so that on the day of your hog roast in Bedford the event isn't just good, it's the most fantastic catering imaginable and fine-tuned for you down to the last little detail.
All these things make Spitting Pig the catering sensation we've become, and are the driving force behind the demand for a hog roast Biggleswade. The creativity and out and out brilliance of our Bedfordshire hog roast catering is without equal – You won't lament choosing Spitting Pig.