Cambridgeshire is one of the most beautiful and rustic counties in the land. Its beauty is contrasted with leading engineering businesses in the Silicon Fen, providing the people of Cambridgeshire the best of both worlds. Like Cambridgeshire itself we're also in the business of natural and historic beauty, and our hog roast Cambridge also leads on the engineering front, with revolutionary machine designs that cook extraordinarily tasty rustic and traditional foods, and also modern dishes, making our hog roast service more than well suited to the Cambridgeshire region especially a Hog Roast in Cambridge. The key to our success has been taking the most historic cooking method in the land and making it better with engineering innovation, vision and a generous helping of passion. Hog roasting is synonymous with quality and everywhere you go you'll find our name is synonymous with hog roasting. We cater up and down Cambridgeshire on a daily basis; Hog Roast Huntingdon is one of our favourite places to work. There's no job too big, no job too small, none too upmarket, none too simple. Weddings; Christenings; Parties; Corporate dinners; Easter celebrations; sports games and everything in between, we do it all, without exceptions. There isn't an event we can't or won't do. We've never been one to prioritise, if you need catering for a party of only 10 people you're as important to us as a customer who needs catering for a party of 1,000. Hog roasting is a taste of heaven that we're committed to making affordable to all. It's also a business philosophy that's at the centre of our hog roast catering success.
We cover the following areas in Cambridgeshire – Cambridge, Ely, Peterborough, Huntingdon
Hog Roast – Professional Service
We'll provide a professional service and the most tasty hog roast you'll ever have the pleasure of eating. If you need a hog roast in Peterborough there's a whole heap of different services that we have for you, the most obvious being the hog roast Peterborough catering service. There's nothing better than our catering if you want a heavenly hog roast for your event and want the professionals to do all the hog roasting for you. You'll have peace of mind while our expert hog roast chefs in Cambridge get their hands dirty and flaunt their hog roasting talents. We have more menus and meals with our catering than you can shake a stick at, with spit roast favourites like roasted pig, lamb, turkey, beef, and chicken in a white bread roll to buffets and sit down meals that come with a huge selection of canapés, salads and desserts. You're sure to find something you like from our menus and if you don't, well, we'll just customise a menu until you're happy! A big reason so many people love our catering is because of the flexibility we regularly provide, designing menus for customers puts us head and shoulders above other hog roasters and there's nothing we won't cook.
Hog Roast Ely…
Or perhaps you want a hog roast in Ely, with hog roast Ely we'll cater for all occasions as with all our Cambridgeshire hog roasting, we also hog roast in Cambridge and all surrounding towns and regions of Cambridgeshire. Hog roast Cambridge is ideal for events in Cambridge; we use market leading hog roast machines built with technological nous and a vision for the best tasting pig roasts in the region. Because we manufacture the best machines in Cambridge we can cook food to perfection, and lots of it! To cook for 300 people we only need one of our powerful machines and one spit roast chef. With our specially designed hog roast machine we're able to cook a 90kg pig or 30 chickens, in one go. For our catering we depend on local farmers to source the best meats and produce, all the animals we use are free-range and organic, raised to roam the Cambridgeshire country side, making for a good life and a great tasting and healthier spit roast. The vegetables and fruits we use when catering are also grown from the finest Cambridgeshire soil and are free of pesticides and other junk products. We'll cook you a hog roast that's healthy as well as delicious, so you can tuck in without hesitation. The ingredients of our company come together to make us the best hog roast catering option in the county.
Hog Roast & Historic Cambridgeshire
Cambridgeshire is the home to some of the earliest Neolithic settlements in the country, and hog roasting is a corner-stone of Neolithic cuisine. Spit roasting has been a staple of the region through the ages, hog roasting and Cambridgeshire go together like bread and butter. For a taste of real Cambridgeshire food call us today and we'll give your event a hog roast feast to remember. The machines we use in conjunction with your hog roast Cambridge are patented and CE marked, as a properly registered company we have safety guarantees and quality assurances so that you're at ease when you book with us because we're compliant with all standards required by the catering bodies. Health and safety is something that we take very seriously and as part of the booking process we will visit your chosen venue – if we aren't already familiar with it – to make sure it's suitable for hog roast cooking. Outdoor catering is something we can do regardless of where your event is, but indoor catering can very rarely be problematic if the venue isn't properly ventilated. Having a hog roast at your event can really lighten the atmosphere and get people thoroughly excited. The dramatic build up and anticipation is an appealing part of your hog roast in Ely, there's nothing to work up an appetite like there is watching a whole pig carcass being gently roasted hour after tantalising hour.
Hog Roast Peterborough…
Hog roast Peterborough at a party is a majestic and a fun way to get your guests engaged while maintaining the party atmosphere. We try our bests to be a fluid caterer, rather than being seen as a disruption to the party itself we make ourselves part of it. The last thing you want is for everyone to succumb to the party atmosphere only for the event to temporarily come to a stop because everyone needs feeding – With our party catering you'll never have this problem for your hog roast in Huntingdon, it simply doesn't happen. We can cater at relaxed events just as easy as we do ceremonial events. There's a good selection of party menus that are done in a 'come up and help yourselves' buffet or serving format, to keep the laughter and laid back nature of the party flowing.
Hog Roast – Party Catering
On the other side of the coin your hog roast Cambridge can be just as decorous and orderly as it can relaxed – Everything that we do is at the behest of the customer. If you want your part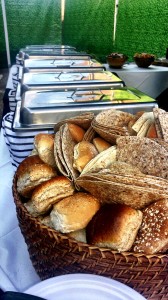 y catering to be formal there are good menus for that to and we'll adapt our service as you see fit. Formal catering is as much a part of Spitting Pig Cambridgeshire as a hog roast itself and you won't be let down by the menu options available to you.
Parties are just the surface of our catering, the tip of the iceberg of our catering service as it were – wedding and corporate catering are tremendously popular and you can have a hog roast in Ely at yours. Weddings are one of the rare occasions where at almost all of them there's some form of catering and this year there's no better place for a hog roast Peterborough than at your wedding. Most parties and many corporate functions go without catering altogether, but for a wedding many of the brides and grooms wouldn't dream of not having food, and with good reason. Catering can make or break events, if you don't have catering guests can feel you haven't made an effort and that the occasion was something of a damp squib, but if you we're hog roasting at your event that will never be the case. For a hog roast in Huntingdon we'll cook your hog or any animal of your choosing, fresh and on site. The one thing that every menu has in common is the freshness of the food, the carcass is always a few days old at best and it's cooked without exception from fresh at your event. As is often the case we'll be there early doors to prepare the food and get everything in order, and the food will always be served on the arranged time. We're very good at planning ahead the hog and if we're booked to serve the food at 4pm or 7pm or 10pm then whatever the time you've arranged, that's when the food will be served – No ifs or buts. In actuality hog roasting is faultless, at least it is with our infallible chefs at the wheel, guiding the roast to a destination of excellence.
Contact Us Today
Hog roasting is everything you could hope for and we're the best known hog roast merchants in Cambridgeshire for a reason. If you want to experience the great dinner service that you've heard everybody else talking about then we can be booked for your event today, either by phone or internet (email or quote form).