There's not much to rival hog roasting, the thousands of customers who booked us for their hog roast Cardiff last year are testament to that. In Wales we have great palates, we like our food simple and we like it to taste good. Hog roasting epitomises simple yet powerfully tasty food, our carefully seasoned pigs and lambs aren't complicated in their preparation or cooking, but you wouldn't know from the lovely taste of the dishes. Hog roast Wales is as popular today as they've ever been, maybe more than ever before, because real food is making a comeback. The processed ready meal revolution is over, homely and healthy food has made a revival, people want their food to taste great but they want it free of additives, they want it fresh and they want it healthy. More than anything they want it for a reasonable price, and that's where we really put other caterers to shame.
Hog roast Bridgend gives you top class catering and do it without ripping you off with extortionate rates. Hog roasting is plenty economical too, because we only need one machine and one chef to feed for hundreds of people we're saving a lot of money that would be otherwise spent on more equipment and skilled chefs. That's why a hog roast in Bridgend isn't as expensive as traditional catering – our savings are your savings. We could charge you the same high rates as everybody else but quick profits and a rip-off service isn't what we're in the business of hog roasting for.
We service the following areas of Wales – Bridgend, Cardiff, Newport, Swansea, Wrexham
Hog Roast – Bringing People Together
The business ethos we have isn't by any means new; in fact hog roasting was depended upon and loved throughout the ages for just that reason. Hog roasting has historically been used not only as an easy and economic way to cook for large numbers of people, it's also been used as a way of bringing together communities, to entertain and spark conversation at gatherings and parties. Today isn't much different, hog roasts are still a tasty treat and still spice up events with a bit of much needed drama and extravagance. The theatre of hog roast Newport is almost as much a reason to hire us for your party catering as the flavourful, appetite whetting food itself. You'll struggle to find another company who can compete with us in either criterion. Stunning food to leave your guests in awe, that's what we strive for and we have all the resources at our fingertips to make it a reality. The company started out as a hobby, born of a passion for hog roasting. Now our Scottish hog roast hobby has grown into a full scale crusade, a crusade we're comfortably winning if our event calendar for this year is anything to go by! We're winning the hearts and minds of the Welsh with our fair prices and outstanding catering, it's why we're the dominate force for a hog roast in Newport.
Local Ingredients…
Wales has countryside in abundance, and with that comes produce in abundance, be it fruits and vegetables or free range animals. Hog roast Swansea makes good use of our stunning rural country; we've made it a practice to use fresh local ingredients wherever possible, regardless of costs. Some foods can't be taken from the Welsh countryside for a hog roast in Swansea – tiger prawns, for example – but the produce we can buy regionally from farmers, we always do. There's something extra to be had from free range animals, the improved quality of the food more than makes up for the cost of buying organic pigs and chickens. What can we cook then, you ask? The list of foods that we can cook is endless, the list of menus we have is long enough as it is, so you can imagine. To skim the surface, there's everything from roast snack sandwiches for your hog roast Wrexham to more extensive menus with multiple dishes that range from canapés to desserts, with a hog roast main course, salads and side dishes in between. In total the current dishes for a hog roast in Wrexham or Wales is well over 100 hundred. If the hundreds of set-dishes we do have don't suffice, not a problem, why not tell us what you would like and we'll cook that for you instead.
If you're sick and tired of what passes for food at most Welsh parties we're here to offer an affordable alternative, we'll put a smile on you and your guests faces with our hot, fresh spit roasted food.
Outstanding Hog Roast Experience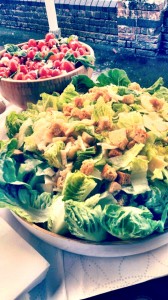 Wales is one of those places which everyone should visit before they die. Steeped in natural mystery and intrigue, the country of Wales is one of the most beautiful places on Earth, inhabited by some of the loveliest people. Hog Roast Bridgend and other such places are such stunning and fine examples of this, that we defy you to try a hog roast event with us here and not be thoroughly bawled over – better than any of our competitors attempts at a Hog Roast in Cardiff hands down! When we moved to the great nation of Wales so many years ago, we became an entrenched part of the reason why the standard of food has become so thoroughly fantastic in the area. By always insisting upon utilising the stunning spit roast method, we manage to gain a flavour, texture and enjoyment level which is simply not reachable via other means of event catering.
With a long history in the agricultural trade, we were continually surrounded by livestock and all other aspect of agricultural life. As a great success, our agricultural endeavours allowed us to travel the world and see just how other nations approached food. With culinary skill running in our blood, we decided to combine our knowledge of livestock with our desire for culinary perfection. Through this, we created our hog and spit roast catering trade – which to this day has grown and flourished in the fine country of Wales. In areas such as Hog Roast Newport, we have seen such a demand for our services that we have been truly shocked – but our food tells a tale of quality and attention to detail, great for those who want great food and service near Hog Roast in Swansea.
Unbeatable Customer Service
We believe that a comprehensive hog and spit roast catering service involves so much more than just the food. To be honest, back when we got into the hog roasting trade, we were appalled at the standard of event catering in Wales, and Britain as a whole. In countries in continental Europe for example, people simply don't stand for poor quality food. However, the British are far more accepting when it comes to the standard of the fare on offer at events. By allowing catering firms the benefit of the doubt, many catering companies make huge profits on providing mediocre food at best – much to the dismay of those in Hog Roast Wrexham. By adopting the hog and spit roast method, we took our first step in being able to produce epic food for the plates of our clients. Throughout our travels, we were continually impressed by the way in which the spit roasting process roasted meat. Thus, we decided to do what we loved – great news for those who love a Hog Roast in Cardiff.
Begin Your Hog Roast Journey With Us
To book a hog and spit roast event with us is a very simple process indeed. Unlike many caterers out there who fail to recognise the needs of those in modern society, we have set up a very easy to use web site which displays all of the information you need in order to make the right choice for your up and coming event. So if its your birthday and you're a farmer in Hog Roast Swansea, or whether you are a business man or woman who requires a Hog Roast in Wrexham, you need only fill in one of our straightforward web forms in order to take you straight to us that very second. Alternatively, many of our clients like to be able to talk to someone about their up and coming event. We can fully understand this, as a hog and spit roasted event should allow for our clients to have ultimate peace of mind and security in their wishes being carried out. Through our extensive services, we have met many people who have found other caterers lacking in this respect – and fortunately our customers never experience, at events in Hog Roast Bridgend or anywhere else in Wales for that matter. So give us a call and we will be happy to discuss the particular details of your event and advise you the best that we can. By offering this fully staffed office throughout the week – staffed by those who know hog roasting inside and out – we allow our customers to get it right from the outset, avoiding stress and keeping fuss to absolute minimum, great news when planning a Hog Roast in Newport. Our services have made many so very happy – why don't you join them?