Shropshire in the heart of England is the place to be if you love unspoilt countryside, historic towns and monuments, take a trip back to a simpler time and enjoy an experience of the past at famous castles, cathedrals and monuments. If you enjoy good food, exercise and entertainment then Shropshire is the place for you. Shropshire has a rich farming heritage like our farm and Hog Roast Company it has been producing the finest organic British produce for generations. Hog Roast Shrewsbury provides only local quality sourced meat from our own farm and local Shropshire farmers. We are proud of every event we cater for and ensure each guest finds the best service and quality of food possible for hog roast in Shrewsbury.
We service the following areas in Shropshire – Shrewsbury, Telford, Ludlow
Traditional Hog Roast Dining
At Hog Roast Telford we hope to bring the traditional Hog Roast dining experience to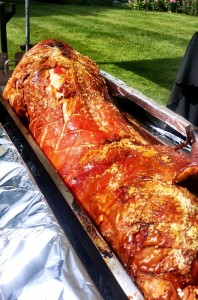 modern parties and events all across the Shropshire region. We provide a traditional solution to modern catering problems providing organic, local farm produce direct to you. No fuss, No hassle, No stress Hog Roast Ludlow brings a roasting machine and hog roast to your doorstep. Cook, serve, clean and dismantle the machine leaving your guests to enjoy the rest of your party or event. We offer a professional affordable catering service and the premier hog roast in Telford experience in the whole of Shropshire.
Shrewsbury is one of England's finest medieval market towns and the birthplace of Charles Darwin. Down the road from Ludlows spectacular castle and annual art festival. In Shrewsbury, Ludlow and many Farmers markets across Shropshire you are likely to see one of our roasting machines in action at the butchers stand or selling hot pork, beef or lamb sandwiches which has proved a profitable idea for many of our customers and local farmers and butchers. Through Halloween and Bon fire night are Roasting machines and Hog Roast parties have kept hundreds of people warm and well fed with our catering service at parties and events across Shropshire and hog roasts in Ludlow.
Organic Hog Roast – Superb Culinary Experience
The growth in popularity of organic food and produce has seen our customers more than ever turn to us for an organic traditional Hog Roast dining experience. A unique and attractive centre piece the Roasting Machine also provides a talking point which guests will mingle around and discuss. Choosing and serving the meat and food to each guest adds a personal touch lacking with other catering firms who provide generic set platters and buffets. Hog Roast Catering is flexible to all requests and provides menus and options to suit all our customers and guests at your event.
A traditional Form of dining and culinary experience Hog Roasts and Roasting machines are seeing a resurgence in popularity as the importance of organic and fresh food to our diets has risen. A traditional organic eating experience provides our customers with slow cooked healthy hearty food compared to modern convenience and pre cooked packaged ready meals. Our menus and catering service provides only the freshest organic produce direct from our own and local farms in the Shropshire area.
Direct Service – Hog Roast Delivered To Your Door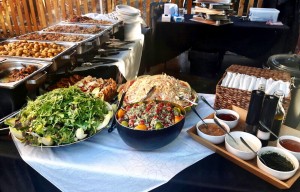 We cut out the middle man of supermarket packaging and processing to provide quality fresh meat direct to your door step all across Shropshire. As people awake to the flavour and quality organic food provides, It is often that the organic option is too costly. For most the quality of food is sacrificed in exchange for cheaper convenience mass produced food and meals. Hog Roast Catering is proud to provide healthy organic food for a relatively low cost. The healthy organic option need not cost the earth. Renting or hiring a machine can be very cheap as well as our chef and serving staff service. To make your Hog Roast as economical as possible you are free to simply hire the machine and we will arrive and set up for you then the rest is up to you. This is a great option for more hands on chefs and smaller private parties. For corporate and business customers we do recommend having staff and chefs on hand to take care of the service and cooking as well as the cleaning dismantling and removal of the Roasting Machine. Every customer is different and we aim to provide the best service for your event within your budget.
Hog Roast Ludlow is proud to offer an alternative to the usual catering companies, proud to be different and stand out from the crowd. You can too at your next event and provide your guests with a unique and memorable dining experience. Healthy fresh local produce cooked in traditional methods by highly trained expert chefs and staff means catering for your function or event is secure in our hands. Let us take away the pressure and stress from the catering and leave you and your guests to enjoy the food and each other.
Catering For All Ages And All Events
As you have read previously here and will have seen with your own eyes, there are a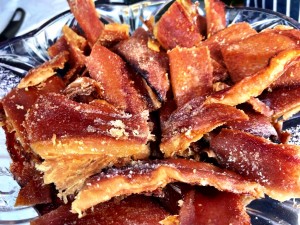 huge amount of reasons why visiting Shropshire is such a great thing to do. Of course, living here is even better, with lovely places such as Hog Roast Shrewsbury to live in which are exceptional for families as well as the younger crowd. When we cater for a Hog Roast in Telford it really is so much more than just food. Instead of other more standardised caterers out there who simply aim to turn up and get the job done – we go to great lengths to ensure that all of our clients have a fantastic dining experience in every sense of the word – great if you're having a superb wedding or party in Hog Roast Ludlow!
Market Leading Service…
One of the ways in which we ensure that we live up to our name as the leading and prime hog and spit roast provider in the whole region is by utilising our very own hog and spit roasting machines. Unlike many caterers out there, we don't think that our clients should feel limited by their surroundings – far from it in fact. Although having a Hog Roast in Shrewsbury is a great and enjoyable thing to do, there are so many naturally beautiful places where a gathering amongst friends would be perfect. Along with our hog and spit roasted food being great in Hog Roast Telford, it is also simply delightful out in the open air – just as nature intended. (Although we love a Hog Roast in Ludlow too). Our machines are made from 100% stainless steel – which means that they look absolutely fantastic. By making the most of laser tooling techniques, our machined products are the last word in technical refinement and durability. The market leaders when it comes to the standard of hog and spit roasting machine which we bring to the tables and events of our clients, we ensure that everything is fully thought out. Along with epic durability levels – great for rough tracks and events deep in the forest near Hog Roast Shrewsbury – our machines look absolutely beautiful.
This not only gives the meat a proper viewing platform which your guests can observe them, but it also highlights and underlines distinction at wedding events and high class corporate events which we cater at. Along with having the ability to weather any storm (useful when it comes to the changeable weather which is so typical of Shropshire) our machines have another capability which truly sets us apart from our competitors in yet another marvellous manner. By having machines which can roast from our mobile gas units, we can roast absolutely anywhere our clients like. By not having to stay near kitchens, we allow people to say good bye to the Hog Roast in Telford, and say hello to the hog roast out in the country air.
Enjoy Quality Hog Roasts With Friends And Family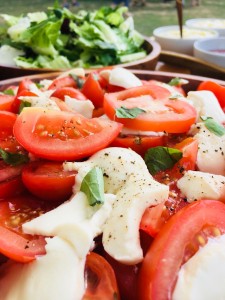 As a nation, we often find ourselves rushing around a lot of the time. With work commitments taking up more and more of what little time we have on this earth, it is absolutely vital that family and friends really capitalise on the quality time which they can spend together. When our clients have Hog Roast in Ludlow with us, they know it's going to be great instead of mediocre – something which many caterers get wrong. Our events capture the very essence of what is great about family and friends spending true quality time together. With our events in Hog Roast Shrewsbury for example, we utilise the very finest of meats when it comes to the roast. Through the employment of such great ingredients, we truly maximise the spit roasting process. Although the process itself can make the most average meats taste good, the best meats make this method really shine. When our customers pay good money for an event with us, the least they can expect are our very highest standards. It is this un-flinching attitude which has got us to where we are today and is part of the reason why we are growing at such a great rate.
So this year when it comes to arranging for your very own event catering at your venue location, why choose anyone else? Our food not only showcases the absolute finery associated with our kind of exceptional cuisine, but also gives your clients an experience they will never forget. To book with us just give us a call or drop us an email – it is the best decision you have yet to make.